Wildcard Weekend in NFL
January 08, 2021
The GIST: Now that we have the off-field antics straight, it's time to look ahead to Wild Card weekend in the NFL. Our first-ever pop-up newsletter on Saturday morning will give you all the must-know details, but in the meantime, here's a sneak peek.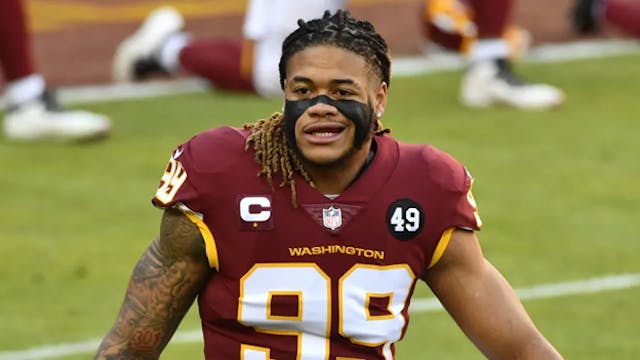 SOURCE: BRAD MILLS/USA TODAY SPORTS
The set-up: This year's postseason is supersized, with 14 teams having clinched playoff spots. The top two teams in each conference — the AFC's Kansas City Chiefs and the NFC's Green Bay Packers — have earned a bye, so the remaining 12 will play in six wild card games this weekend: three on Saturday and three on Sunday.
The games will be played in the higher seed's stadium, and each team has their own attendance policy based on COVID-19 restrictions (which the Cleveland Browns know a thing or two about).
Like every round of the NFL postseason, it's one and done, so teams that win in this first round will move right on to round two (aka the Divisional Round).
Saturday's must-see match: If you're going to watch only one game on Saturday, make sure it's the 8:15 p.m. ET matchup between the Tampa Bay Buccaneers (11-5) and the Washington Football Team (WFT) (7-9).
The Bucs are the stronger team and the heavy favorites to win, but quarterback (QB) Tom Brady might want to watch his back: WFT's rookie defensive end Chase Young has already marked him as a target. Bring on the drama.
Sunday's can't miss game: Saving the best for last, the Pittsburgh Steelers (12-4) will play the Browns (11-5) on Sunday night at 8:15 p.m. ET.
The Steelers just lost to the Browns on Sunday, but we wouldn't look into that too much: the Steelers were resting their best, while the Browns went all out, fighting for a playoff spot. Expect these division rivals to give us a wild Wild Card finale.
Get in on the action: Don't be stuck on the bench during the playoffs! Thanks to our friends at FanDuel, GISTers can compete in weekly NFL fantasy for cash prizes (!!!) throughout the playoffs. Here's the gist:
FanDuel is offering GISTer-exclusive weekly fantasy contests with $500 on the line. By pitching in $2 and setting a killer line-up, you'll walk away with cash if you're in the top 20% of participants!
Plus, by competing in at least two weeks of fantasy contests, you'll be entered in the final leaderboard — $2,000 is on the line, including the grand prize of $500, a $200 adidas gift card and GIST merch. Cool, no? Sign up and make your picks here (fanduel.com/GISTers) before games kick off on Saturday.*