No Sweeps in MLB's League Championship Series
October 15, 2020
Dodgers, Astros stay alive and avoid sweeps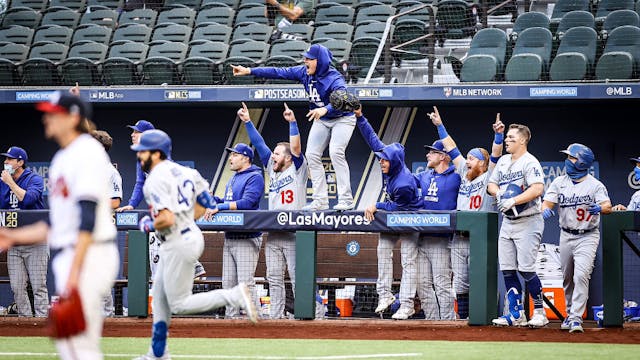 SOURCE: LA DODGERS/TWITTER
The GIST: It might be spooky season, but the witches can hide their brooms for now, with no sweeps in the MLB's league championship series.
What happened yesterday?: The Tampa Bay Rays were primed to sweep the AL Championship Series (ALCS), leading the Houston Astros 3-0 heading into Game 4. But the Astros proved to be too much for the regular season AL leaders, winning 4–3 and forcing today's Game 5 at 5 p.m. ET.
Earlier in the day, the LA Dodgers put on a masterclass in the National League Championship Series (NLCS). Down 2-0 in the series to the Atlanta Braves, the Dodgers finally came to life in Game 3, winning 15–3 and showing why they led the NL in the regular season. Game 4 is set for 8 p.m. ET tonight.
Any other MLB news?: No more fake crowd noise, because the fans are back! For the first time since spring training in March, the MLB is allowing 11,500 fans to attend NLCS games, which are being played in a "neutral site" environment at Globe Life Field in Arlington, Texas. The World Series, which will also take place in Arlington, will allow fans as well. We'll miss you, cardboard cutouts!