Toronto Maple Leafs Lead All-Canadian North Division
January 18, 2021
The GIST: The NHL is back, the Toronto Maple Leafs are leading the all-Canadian North Division and the Ottawa Senators are not in last place. Let all that sink in before we preview tonight's games.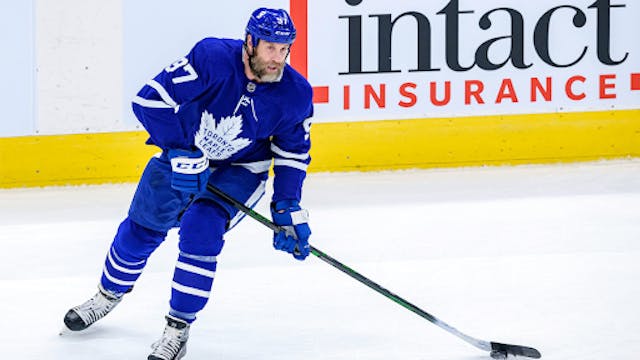 Source: Sharks on NBCS/Twitter
Winnipeg Jets vs. Toronto, 7 p.m. ET: Okay, you ready? After losing to the pesky Sens on Friday, the Leafs rebounded well, beating Ottawa on Hockey Night in Canada. The Blue and White are feeling good after resident old-timer Joe Thornton scored his first goal as a Leaf in the process.
The other Leafs' veteran (and former Senator), Jason Spezza, doesn't share the same fortune. He was placed on yesterday, meaning another team can pick him up. And if that happens, he's . Weird ending to a pretty storied career, TBH.
For their part, the Jets are the only undefeated team in the North right now, with a grand total of one win. They had to miss practice Saturday after COVID-19 protocol kept them off the ice until yesterday, so they could be a bit rusty tonight.
Montreal Canadiens vs. Edmonton Oilers, 9 p.m. ET: Connor McDavid and his Oiler buddies have a chance to save face from Saturday's brutal 5–1 loss to the Canadiens. But based on Habs goalie Carey Price's , there's a solid chance he won't let that happen.
Vancouver Canucks vs. Calgary Flames, 9 p.m. ET: The Canucks — who we had pretty high hopes for about a week ago — are last in the North Division. Jinx, we owe them a coke. There's hope though: star winger J.T. Miller could make his season debut after missing the first three games due to COVID-19 protocol.