NBA Finals: Warriors split the series
June 06, 2022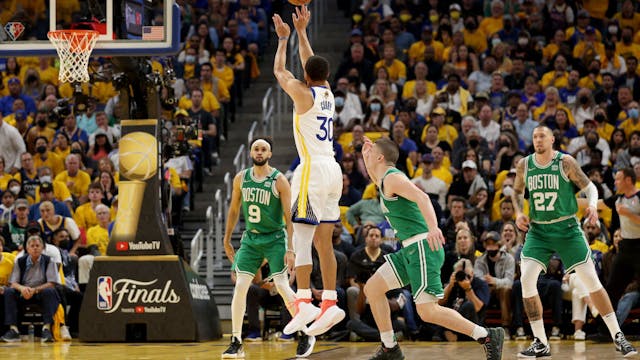 SOURCE: EZRA SHAW/GETTY IMAGES
The GIST: After rallying together to raise awareness for causes that are bigger than basketball, the Golden State Warriors and Boston Celtics served up a lopsided Game 2 Finals matchup, as the Warriors evened the series with last night's 107–88 win.
Last night's Game 2: A two-point game at halftime quickly turned into a 19-point rout as Golden State netted 35 points in the third quarter and Steph Curry put the squad on his back, scoring a game-high 29 points en route to the crucial homecourt dub.
The other difference-maker? Turnovers. The Celtics, who've struggled with turnovers throughout the playoffs, gave the ball up a whopping 18 times. Not good.
Wednesday's Game 3: The series is now Beantown bound for Wednesday's 9 p.m. ET Game 3. Golden State is decent on the road, while Boston's known for bouncing back after a loss. Here we go.