Chicago Sky claim 2021 WNBA championship
October 18, 2021
The GIST: Candace Parker returned home with a goal of winning Chicago's first-ever WNBA title, and she did just that yesterday. We're not crying, you're crying.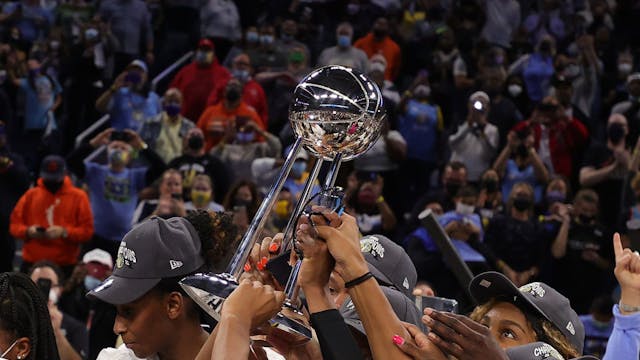 Source: Stacy Revere/Getty Images
Game 4 recap: After Friday's massive Game 3 win at home, the Chicago Sky entered yesterday's Game 4 with a 2-1 series lead and a chance to clinch the title. The Phoenix Mercury jumped out to an early lead, but the Sky stormed back to win 80–74 in front of a(nother) soldout hometown crowd.
Parker and Courtney Vandersloot both posted while Allie Quigley (Vandersloot's wife, okay power couple) netted 26 points, helping to make Chicago just the third city to win NFL, NBA, MLB, NHL, MLS and WNBA titles. Damn, Chi-Town.
And, as we mentioned, Kahleah Copper was named finals MVP after averaging over 17 points per game in the postseason. Well deserved.
Of note: In an unprecedented move, the Mercury declined to attend the post-game press conference following yesterday's loss. It's with many journalists sharing complicated feelings about it. Keep an eye out for tomorrow's episode of for more.
What's next: The WNBA's 25th anniversary season did not disappoint. The Mercury's Diana Taurasi was named , the league saw , and with the first final since 2016 not featuring a No. 1 seed in the books, the competition has never been more balanced.
So what comes next? Sky's the limit.