So it's not gonna be easy…
March 23, 2020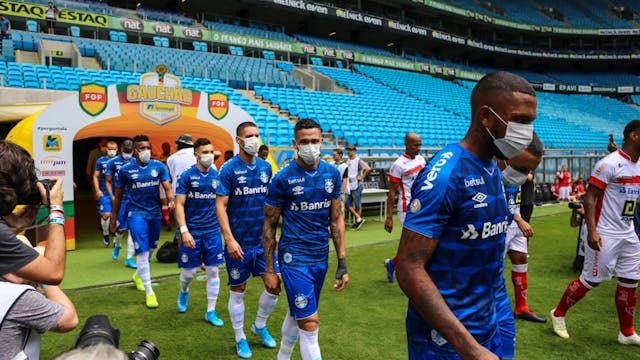 The GIST: As the great Ryan Gosling once proclaimed, "It wasn't over. It still isn't over!" As the COVID-19 pandemic continues, so does the complete breakdown of springtime sports.
Have any more athletes tested positive?: Marcus Smart of the Boston Celtics and PGA golfer Victor Lange tested positive over the past few days, as well as a second Ottawa Senator, two Los Angeles Lakers and three Philadelphia 76ers. The teams haven't released any names (because everyone deserves privacy and the right to recover in peace) but have assured us that all players, infected or not, are self-isolating.
And it's not just the players. New Orleans Saints' head coach Sean Payton and Liga MX (Mexico's top pro soccer league) president Enrique Bonilla have tested positive, and former Real (pronounced REY-AL) Madrid president Lorenzo Sanz died at 76 from COVID-19 complications in Spain on Saturday. So sad.
What are the healthy athletes up to?: They're still helping and still training (at home!). The #StayAtHomeChallenge is encouraging people to stay indoors and show off their keep-up skills, and athletes like runner Usain Bolt, soccer star Lionel Messi (pronounced LEE-OH-NELL) and Montreal Canadien Tomas Tatar (who put a hockey spin on it) have all participated. Nice try boys, but this girl, a US U-14 Girls' National Soccer Team member, definitely won it.
What are the timelines looking like?: It's impossible to know. Most leagues have suspended until May, others have postponed tournaments to the fall. All we know for sure is that this is going to be pretty financially devastating for the sports world (and, like, the whole world).
The NBA is currently considering withholding players' salaries if play doesn't resume by April 15th (which it probably won't). Players could regain that money if the season starts up again, but if the league decides to cancel the rest of the season (without rescheduling), players won't be paid for the missed games. Considering the minimum full-year salary for an NBA player is $800k, we think they'll be just fine.