Why We Like Laurent Duvernay-Tardif For "Sportsperson of the Year"
December 07, 2020
This Week in Sports: Laurent Duvernay-Tardif, Formula One Racing, Soccer in Canada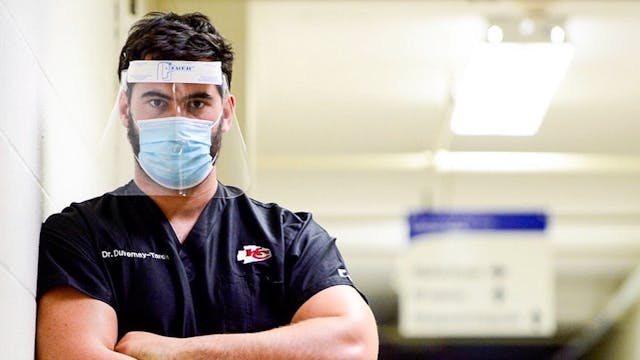 SOURCE: LAURENT DUVERNAY-TARDIF/INSTAGRAM
🏈Football: Let's dig back into "Sportsperson of the Year" to talk about Laurent Duvernay-Tardif (LDT). The Super Bowl–winning guard gave up his season with the Kansas City Chiefs to put his McGill medical degree to good use, joining the frontline staff in his home province of Quebec during the pandemic.
LDT is the first Canadian to win the accolade since NHLer Bob Bourne in 1987, and the first non-hockey playing Canadian ever. The man deserves his own Heritage Minute.
🏎Formula One: With world champ Lewis Hamilton out of yesterday's Sakhir Grand Prix with COVID-19, the path to the podium was left wide open. And after a wild race, Canadian Lance Stroll took advantage, coming in third for the second time this season.
⚽️Soccer: We've asked it before and we'll ask it again: should soccer be our national sport? Canadians seem to be pretty freaking good at it, with the likes of women's national team star Janine Beckie and up-and-comer Jonathan David lighting it up in Europe this weekend.
And speaking of soccer, Canada Soccer announced their Players of the Year last week: Kadeisha Buchanan won her third award in six seasons and Alphonso Davies won his second in three seasons after both superstars had historic wins in the UEFA's Champions League.