Hey sister, soul sister
March 30, 2020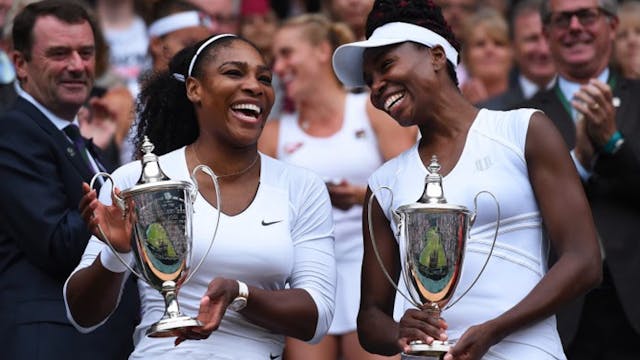 The GIST: Siblings. They're your loyal lifelong best friends and your most formidable foes wrapped up in one. And today we're celebrating that, shall we say, "special" relationship by giving #thegist of the top three sister acts in sports right now.
The Ogwumike (pronounced OH-GWOO-MIH-KAY) sisters: The Ogwumikes are the OG basketball family. The leader of this four-sister pack is big sis (no surprise there, right?) Nneka. At 6'2", Nneka is a force to be reckoned with: she was drafted No. 1 overall in the 2012 WNBA Draft, was named 2016 WNBA MVP and won the WNBA Championships in 2016. Sheesh. She currently plays for the Los Angeles Sparks where she packs a v. nice one-two punch with her little sister (although, at 6'3" she's not that little), Chiney, who is also a basketball analyst for ESPN.
The Lamoureux (LAMB-AH-ROW) twins: Americans love 'em, and Canadians...well, as much as they're too nice to admit it, don't. Team USA hockey stars Jocelyne and Monique Lamoureux have it all: speed, agility, grittiness and, most importantly, that eerie twin sixth sense that tells them exactly where the other one is on the ice at all times.
The pair have each won two silver Olympic medals, one Olympic gold and six world championships. Talk about #twingoals. And speaking of twins and sports, why not add Switching Goals to your isolation watch list?
The Williams sisters: These two need no introduction. Hands down, Venus and Serena are the most celebrated and popular sisters in the sports world. And rightfully so. Venus has racked up seven singles grand slams while little sister Serena has won 23, the most of any woman or man in the Open Era. And they've done so all while facing racism in a traditionally white sport.
Venus and Serena have the classic "you are my best friend I love you so much" but also "you are my biggest competitor" sister mentality. One day they'll be squaring off in a fierce singles match, and the next they'll be winning doubles matches together. We've been lucky to watch Venus and Serena play for over 25 years and can't wait for more.