James Harden Has Never Won an NBA Championship
December 18, 2020
The GIST: Remember when Kate Hudson did everything she could to get Matthew McConaughey to dump her in How to Lose a Guy in 10 Days? Looks like NBA superstar James Harden has been taking notes.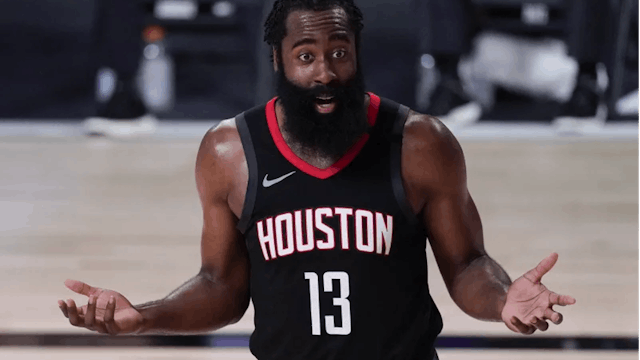 SOURCE: MARK J. TERRILL/ASSOCIATED PRESS
The background: Harden has been playing for the Houston Rockets since 2012. An eight-time NBA All-Star, the 2018 MVP has led the league in points per game for the past three years. But despite making the playoffs every season since he was drafted in 2009, Harden has never won a championship.
The lack of ultimate glory is a big sticking point for him, and fair enough. It's hard to be considered one of the GOATs without a championship ring on your finger. Which is why Harden is doing everything he can to get out of Houston.
The situation: After putting up with his diva ways for eight years, the Rockets aren't letting him go easy. So in pursuit of a trade that hasn't yet come, Harden has upped the ante. Over the past few weeks, he's skipped out on practices, broken COVID-19 protocols and gone clubbing (or, what he calls, "just training").
And after missing the team's first two preseason games, Harden finally showed up for work on Tuesday, but not exactly in game shape (no judgment here, who's in game shape these days anyway?).
The next step: While Harden seems to be doing everything he can (without breaching his contract, which still has two years remaining) to push the Rockets to trade him, he finally ended a media blackout to speak on his current priorities.
"Right now, I'm just focused on being here," Harden said during media availability after a team practice yesterday. TBH, we're not buying it.
The Rockets are back on the court tonight at 8 p.m. ET and start the regular season against the Oklahoma City Thunder on Wednesday. Whether Harden will be there to play his former team is anyone's guess.