Four Teams, Four Games Remaining in 2021 World Juniors
January 04, 2021
The GIST: Time flies when you're having fun. It feels like just yesterday that we were anxiously anticipating the start of the 2021 World Juniors, and now there are only four teams (including Canada, of course) and four games remaining in the tournament.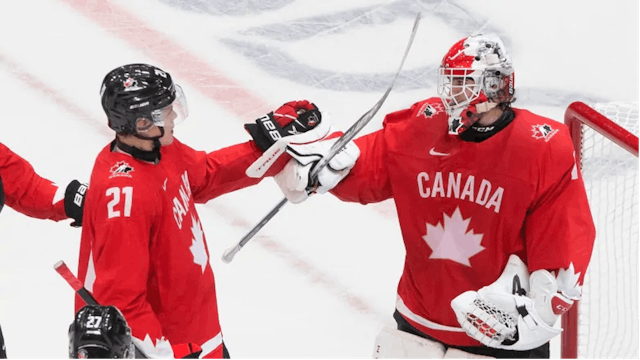 SOURCE: JASON FRANSON/THE CANADIAN PRESS
Canada vs. Russia: A year ago today, Canada and Russia both won their semifinal games, only to meet in the next day's final. Canada won that gold medal game, and Russia has probably been plotting their revenge ever since. Well, their day has finally come: the two hockey powerhouses will face off at 6 p.m. ET tonight in the first of two semis.
Canada is the tournament's only undefeated team, and they have the best goalie we've seen in a long time in Devon Levi. If Canada can capitalize on some quality scoring chances while Levi keeps the puck out of the net, their ticket to Tuesday's final should be well within reach. Touch wood.
USA vs. Finland: The Americans and the Finns have matching 4-1 records: Team USA lost their first match of the tournament to Russia while Finland's only loss came against Canada. Now they'll face each other in today's second semi at 9:30 p.m. ET.
Finland knocked Team USA out last year, so, like Russia, the Americans will be playing with a chip on their shoulder, but if they can stay disciplined and keep scoring goals like these, they'll likely send the Finns packing.
The final: If our predictions hockey dreams come true, then we could see a Canada-U.S. final on Tuesday at 9:30 p.m. ET. Could there be a better way to start off 2021 than with a World Juniors victory over the Americans? We think not.