Houston Rockets Trade Harden to Brooklyn Nets
January 14, 2021
The GIST: More sensational than an episode of Sunrise Bay, the NBA is all kinds of drama these days.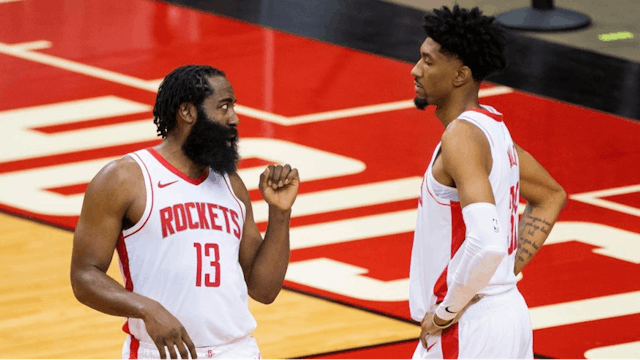 SOURCE: MARK MULLIGAN/HOUSTON CHRONICLE VIA AP
The Harden saga: James Harden's antics finally paid off. After he was asked to not attend yesterday morning's practice, news broke around 4 p.m. ET that the Houston Rockets wild child got his wish and was traded to the Brooklyn Nets.
No one's going to miss him much in Houston. Ex-teammate John Wall admitted earlier in the day that things in the locker room had "been a little rocky," while DeMarcus Cousins called out Harden's "disrespect" and said he "doesn't care" if Harden leaves.
The Nets saga: It's fine if Harden forgets to bring the drama to Brooklyn, because the Nets already have plenty. Exhibit A: Kyrie Irving. While away for personal reasons last week, the flat-earther allegedly attended a birthday party (people are still having birthday parties?!) and was recorded dancing without a mask.
While the NBA investigates, All-Star Kevin Durant will be there to welcome Harden to the team, though we're not sure how coach Steve Nash plans to deal with all three giant egos. Good luck!

Keep an eye out for some spicy action on Saturday night in what could be Harden's first game, when the Nets play the Orlando Magic at 6 p.m. ET.
The COVID-19 saga: In other news, the NBA, like the rest of the world, has a serious COVID-19 problem. The NBA was forced to postpone three games last night, bringing their total to nine rescheduled games this season.