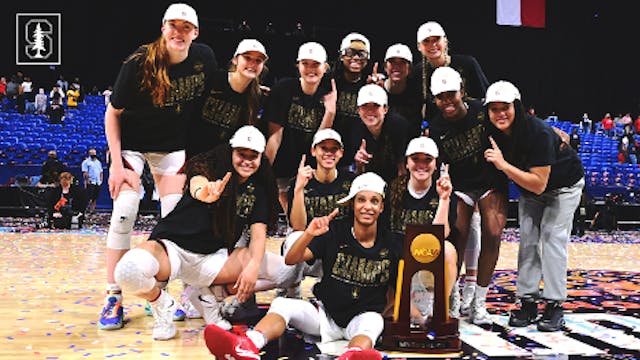 Source: Stanford Women's Basketball/Twitter
The GIST: After two jaw-dropping, record-breaking, game-changing weeks (and incredibly difficult COVID-19-ravaged regular seasons), the Stanford Cardinal won the NCAA women's March Madness tournament last night.
The game: The pairing of steadfast No. 1 Stanford and feisty No. 3 Arizona in the final was nothing short of thrilling. Stanford started strong in their first final since 2010, and led underdog Arizona for the majority of the game, mostly due to their stifling defense on Arizona star Aari McDonald.
Despite McDonald only going 5 for 21 from the field, Arizona's defense kept them in the mix the entire game. But, it was Stanford who came out on top, hanging on to a 54–53 lead and winning their first championship since 1992.
With the win, coach Tara VanDerveer locked in her third title in 35 seasons and Stanford sophomore guard Haley Jones was named the tournament's Most Outstanding Player after scoring a team-leading 17 points last night.
The impact: Let's take a step back for a minute and process the impact of this year's tournament. From Oregon Duck Sedona Prince's viral videos calling out disparity and leading real change to record increases in viewership in a time of declining TV ratings, the women's tournament was a literal gamechanger.
It felt like everyone was tuned in, including some of sports' biggest stars: tennis legend Billie Jean King, NFLer JJ Watt and NBA icon Magic Johnson were dazzled by the tournament, while former POTUS Barack Obama filled out a bracket.
Social media engagement hit new highs, female athletes racked up huge numbers of followers and new fans were born everywhere. March Madness has been a joyous ode to women's basketball, and we can't wait for the next one. Only 355 days to go.