Everything you need to know about the UWCL final
May 16, 2021
HAPPY SUNDAY! Remember our UEFA Women's Champions League quarterfinals pop-up back in March? Well, almost two months later and we've arrived at the final. This year's competition will crown a new champ for the first time in five years: FC Barcelona or Chelsea FC. So we're breaking down the matchup ahead of today's 3 p.m. ET kickoff in Gothenburg, Sweden.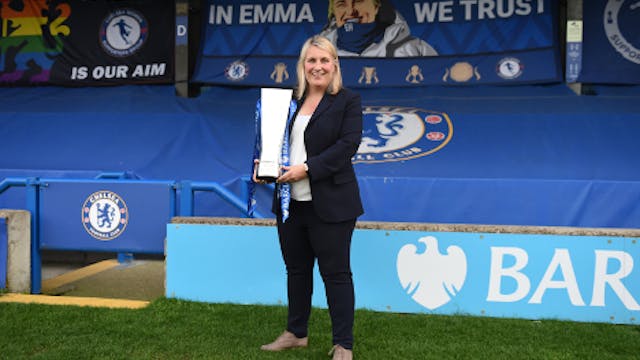 Source: Chelsea FC Women/Twitter
QUOTE OF THE DAY
My son asked me this morning if I'd bring a medal home for him today….He'll love that. He'll wear that all day tomorrow. Let's just hope he don't throw it in the bin.
— Chelsea head coach, Emma Hayes on winning back-to-back Women's Super League (WSL) titles and sharing the medals with her son, Harry. Will Harry be adding more hardware to his collection today? Tune in and see.
⚽️ The background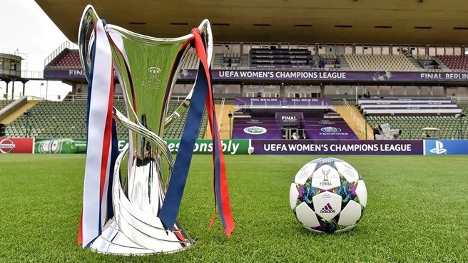 A quick refresher: Union of European Football Associations (UEFA) is the governing body for European soccer, and the top-tier teams from around the continent make up the Champions League. The UEFA Champions League is the biggest club (not country) soccer tournament in the world.
The tournament is held annually and over the entire club regular season. Club teams play within their national leagues, and those rankings determine their entry into the UEFA Women's Champions League (UWCL).
The top two teams (clubs) from each of the strongest 12 national associations are entered, while the weaker associations only get one team entry. From there, teams play in as many as two qualifying rounds before moving to a knockout round of 32, then round of 16, and so on.
Starting next season, the qualification structure will more closely resemble the men's side with mini-tournaments and a group stage to start.
In the knockout round, there are two legs within each round. This means that each team plays one home and one away match. Then, the goals from those two matches are added together and the team with the better aggregate score advances.
The final, however, is just one single match, which makes today's contest all the more exciting.
Five-time reigning UWCL champion Olympique Lyonnais (Lyon) are the most successful club in the league's history, with seven titles under their belt in nine appearances.
The German squads have also been impressive with Frankfurt (4), VfL Wolfsburg (2), Turbine Potsdam (2) and MSV Duisburg (1) boasting UWCL wins under the German flag.
🇪🇸 Meet Barcelona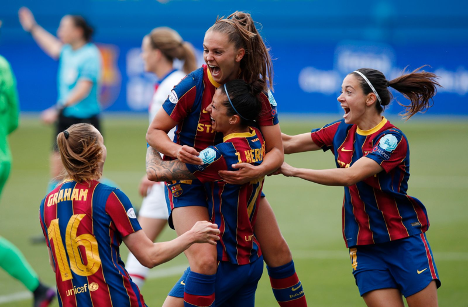 Barcelona may be out for blood this time around after suffering a 4–1 loss to powerhouse Lyon in the 2019 finals. And from the looks of it, the squad has only improved since then.
In this year's campaign, Barcelona stomped on newcomers PSV Eindhoven in the round of 32 and mainstay Fortuna Hjørring in the round of 16, scoring 17 goals across the two rounds. And in the quarterfinals against top contender Manchester City, they walked away with a 4–2 on aggregate win (featuring a convincing 3–0 match) to move on to the semis.
Finally, an exciting 3–2 aggregate win over Paris Saint-Germain earlier this month punched Barcelona's ticket to their second finals appearance.
Leading Barca scorer Jenni Hermoso and forward Asisat Oshoala could be the game changers in today's championship vs. Chelsea. The two have collectively netted 102 goals in the last two seasons, but Oshoala may not be in tip-top shape after suffering a recent injury.

In net for Barca is Sandra Paños. A member of a very athletic family, the goalkeeper has conceded, on average, only one goal for every two games and has no plans to increase that stat today.
Unfortunately Andrea Pereira, a core member of Barcelona's defense, is suspended for this match. Her teammate Mapi León will have to step it up in Pereira's absence to halt the Chelsea offense.
🏴󠁧󠁢󠁥󠁮󠁧󠁿 Meet Chelsea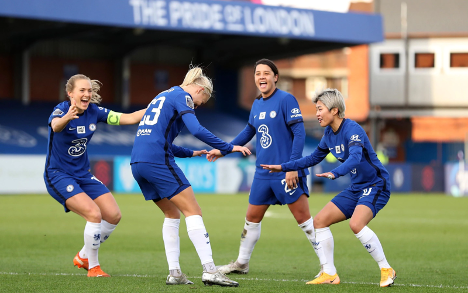 Chelsea is the newcomer, making their first ever UWCL final appearance. The men's squad also made it to their Champs League final, marking the first time both the women and men from the same club made it to the final in the same season. So cool.
This is partially thanks to Chelsea investing in the women's club with similar enthusiasm as to the men's (what a novel concept) and also due to their fearless leader, the aforementioned coach Hayes (more on her in a bit).
After winning handily over Benfica in the round of 32, Chelsea went on to best Atlético Madrid and Wolfsburg, before their toughest battle against Bayern Munich in the semis. Of course, Chelsea went on to win 5–3 on aggregate and advanced to the final.
With Chelsea's all-time leading scorer Fran Kirby and FA Women's Super League top scorer (and resident backflipper) Sam Kerr on the attack, Chelsea should wear down Barca's defenders. The duo tallied 30 goals in the 19 games they started together this year.
Leading the defense is captain and center back Magdalena Eriksson, along with keeper Ann-Katrin Berger, who joined the team in 2019 after recovering from thyroid cancer in 2018. If she can stop cancer in its tracks, stopping a soccer ball football is nothing.
Representing the red and white for the Blue is Jessie Fleming. The 23-year-old midfielder joined Chelsea last summer, after finishing her college career at UCLA. She started three times during her first professional season and we hope she gets some minutes today. Number 17 on the pitch, but number one in our hearts.
🗣 On the sidelines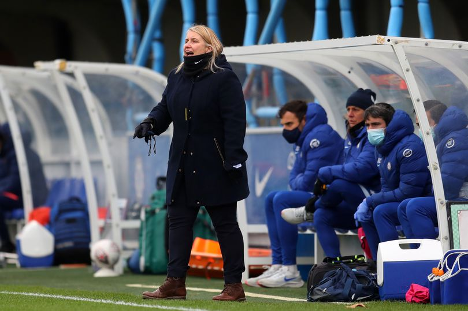 At the helm for Barcelona is Lluís Cortés. Cortés joined Barcelona in 2017 as an analyst and later became an assistant coach before taking over the head coach role in 2019. Cortés quickly earned respect across the league after leading the team to the finals the same year he took the reins. Actions speak louder than words.
Now back to Hayes. A charismatic and seasoned leader on the pitch, Hayes is also the first female head coach in 12 years to lead a team to the finals. After hopping across the pond to serve as head coach and director of football operations for the NWSL's Chicago Red Stars until 2010, Hayes returned to England and found her home with Chelsea in 2012.
Since then, Hayes has collected 10 trophies while maintaining a 67% winning percentage. What, like it's hard?
Hayes is known for her "psychological methods," such as having the team watch videos of other top female athletes before matches and implementing the geese mindset on the pitch. Nothing like a flying V.
🏆 Winner winner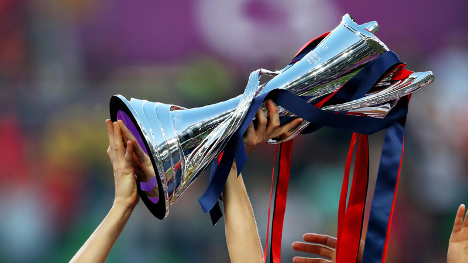 What do the winners get, you ask? Not much compared to their male counterparts. *eye roll* The women's champs will earn just €250K (~$303K USD) while the men can expect a whopping €76M (~$93M USD) pay-day at a minimum. We smell BS.
That said, there's been a lot of progress on the pay equity front lately, including UEFA's recent announcement that updates to the financial distribution model for the women's league are coming as soon as next year.
The update includes a €1.4M (~$1.698M USD) prize for the winner and €400K minimum (~$485K USD) reward for each club that takes part in the group stage. Slowly but surely closing that gap.
📺 How to watch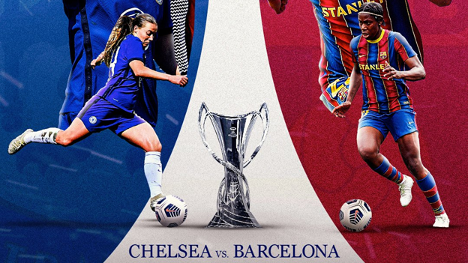 Unlike several North American leagues, the Champions League final will be fanless this year due to Sweden's current COVID-19 restrictions. But, for us landlocked in North America, that doesn't matter much anyway.