A tale of two Hardens
March 09, 2020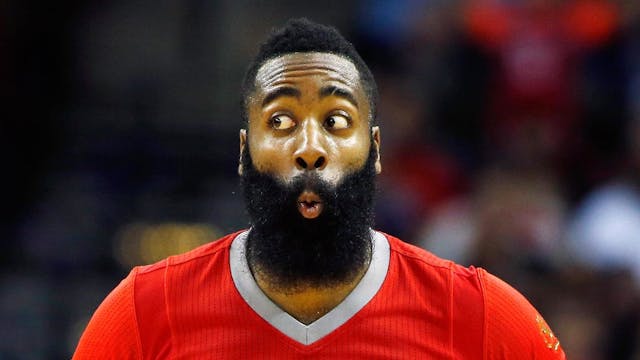 The GIST: It was the best of times, it was the worst of times. In a 108–99 loss to the Charlotte Hornets, Houston Rockets star James Harden somehow pulled off a rare quadruple-double this weekend, in the most Harden way possible.
What's a quadruple-double?: A quad-double is when a player records double digits in four of the five statistical categories — points, rebounds, assists, steals and blocked shots — in a single game. Technically, Harden only hit a triple-double, putting up 30 points, 14 assists and 10 rebounds.
But in this amazing showcase of talent, he also managed a pretty bad stat: 10 turnovers! So yes, this "quad-double" (which, BTW, was the third in his career) is very tongue-in-cheek.
What else is going on in the NBA?: Poor Steph Curry can't catch a break. Just a few days after returning from a broken hand that caused him to miss 58 games, the Golden State Warrior is back on the injured list with the flu. But don't panic! It's a seasonal flu, not COVID-19, so he should be back on the court in no time.
Unfortunately, Milwaukee Bucks star Giannis Antetokounmpo (pronounced YONNIS ANDEDO-KOONPO) isn't as lucky. Last season's league MVP suffered a minor joint capsule sprain (aka a knee injury) during Friday's 113–103 loss to the Lakers. Giannis, who just became a dad last month, will miss at least two games.
And what's this about the Battle of LA?: The LA Lakers and LA Clippers face off four times each season, and the bouts rarely disappoint. Yesterday's edition, the third of the season, was no exception. Despite being the better team, the Lakers had difficulties with the Clippers in the first two showdowns but came out with a vengeance in this game, winning 112–103.
LeBron went OFF, putting up 28 points, while Anthony Davis recorded another 30. With their Friday night win over the Eastern Conference-leading Bucks (in which LeBron scored his 34,000th career point!), the Lakers are proving they're the team to beat in the race for the Larry O'Brien.
Any other basketball news?: The U Sports Final 8 basketball championships took place in Ottawa over the weekend, and there were no surprises in the end. In the women's final match-up, the first-ranked Saskatchewan Huskies won 82–64 over the Brock Badgers for the school's second-ever championship.
Meanwhile, the Carleton Ravens won their record-setting 15th men's title in 18 years with a 74–65 win over Dalhousie. The future of Canadian basketball is looking bright!