NHL playoffs: Canadian teams struggle
May 09, 2022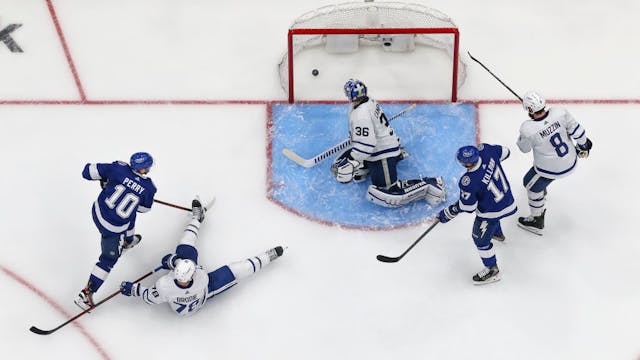 SOURCE: MARK LOMOGLIO/NHLI VIA GETTY IMAGES
The GIST: Each playoff pairing has faced off at least three times now, so you know what that means: it's getting serious. Multiple teams are heading into elimination games, while others are an even match, creating a three-game series scenario. Let's dive in.
Toronto Maple Leafs: With last night's downright embarrassing 7–3 Game 4 loss to the Tampa Bay Lightning, the series is heading back to Toronto tied at 2-2. The blue and white will look to regroup, show some hustle and stay out of the penalty box against the two-time defending Stanley Cup champions tomorrow at 7:30 p.m. ET.
Edmonton Oilers: Due in part to the LA Kings' offense firing on all cylinders in last night's tough 4–0 Game 4 loss, the series is tied at two games apiece. The Oilers will hope to draw on their home crowd energy as they head back to Edmonton for Game 5 tomorrow at 10 p.m. ET.
Calgary Flames: Despite battling hard and having some controversial calls go their way during Saturday's Game 3, the Flames still lost 4–2 to the Dallas Stars, allowing the series to move to 2-1. Ugh. Can Calgary snag a Game 4 win in Dallas? Find out tonight at 9:30 p.m. ET.
Elsewhere: The regular-season Western Conference leader Colorado Avalanche could sweep the Nashville Predators in tonight's Game 4 at 9:30 p.m. ET.
Over in the East, the Pittsburgh Penguins will attempt to go up 3-1 over the NY Rangers tonight at 7 p.m. ET, while the Boston Bruins, who have remarkably come back to even the series at 2-2, will look to level up their play in North Carolina against the Hurricanes tomorrow at 7 p.m. ET.