March Madness: Underdogs on top
March 21, 2022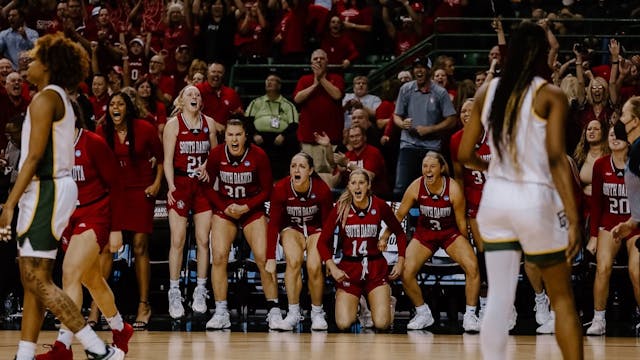 SOUTH DAKOTA WOMEN'S BASKETBALL/TWITTER
The GIST: Heart rate still sky-high after an upset-filled weekend of men's and women's March Madness? Same. Deep breaths — here's who's through, who's out and some of the top moments along the way.
Men's: My Super The Sweet 16 party — featuring No. 15 Saint Peter's (just the third-ever 15-seed to advance beyond the second round) for the first time — is set. Meanwhile, No. 1 Baylor was the first top-seed to fall, as No. 8 UNC eliminated the defending champs in overtime on Saturday.
No. 11 Michigan, No. 11 Iowa State and No. 10 Miami rounded out the weekend of stunners, eliminating No. 3 Tennessee, No. 3 Wisconsin and No. 2 Auburn, respectively. How sweet it is.
Women's: This weekend, No. 5 Notre Dame's Olivia Miles became the first freshman to record a March Madness triple-double, No. 1 Stanford's Fran Belibi threw down the third dunk in women's tourney history and No. 10 Creighton's Lauren Jensen scored the game-winner against her old team to stunningly eliminate the Caitlin Clark–led No. 2 Iowa.
But the biggest takeaway? The nine upsets (including No. 10 South Dakota advancing to their first-ever Sweet 16 by eliminating No. 2 Baylor) through the first two rounds.
Women's basketball is defying the rankings, signifying a growth in parity and competitiveness in the sport. Watch the madness continue with eight second-round games tipping off today ahead of Friday's Sweet 16.