Who run the world?
April 16, 2020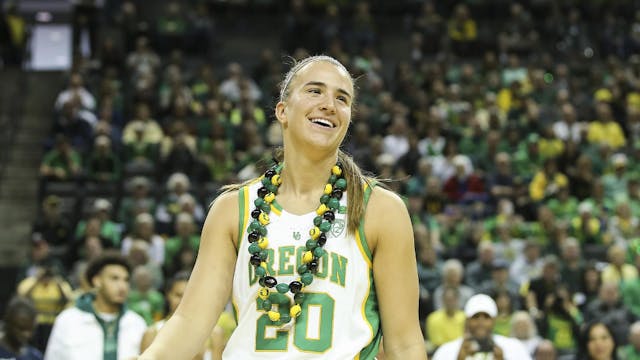 SOURCE: ERIC EVANS/GODUCKS.COM
The GIST: Thank goodness the WNBA is giving us something to look forward to. Just one more sleep 'til the WNBA Draft!
Wait...remind me what a draft is: A player draft allows a professional league's teams to select the best eligible amateur players to add to their rosters. In the WNBA Draft, all twelve teams have one pick in each of the three rounds (unless they traded them), and the eligible player pool is mostly made up of college players (there's pretty detailed criteria to be considered "eligible" though).
Got it. How's it all going to roll out?: Completely virtually. The draft, which was supposed to take place live in New York City, will be hosted remotely, with Commissioner Cathy Engelbert announcing all the draft picks, and the athletes streaming in via video chat or conference call.
And who's going to be the first pick?: That honor will, without a doubt, go to the college basketball legend, Sabrina Ionescu (pronounced YOH-NESS-COO) of the Oregon Ducks. The New York Liberty, who already have superstars like Kia Nurse on the roster, have the first overall draft pick and will definitely use it on Ionescu. She's one of those "once in a generation" players, and all eyes will be on her to lift the league to a new level.
After Ionescu, mock drafts have Lauren Cox from Baylor or Ionescu's Oregon teammate Satou Sabally (pronounced SAH-TWO SAH-BUH-LEE) going next. Many teams and scouts have said that the loss of the NCAA Championship Tournament (aka March Madness) has made their selections extra challenging, so it might be a bit of a free-for-all after that. Fun!
And what's this I hear about a Kobe tribute?: The WNBA is planning to honor not only Kobe Bryant, who was an advocate and big fan of the league, but also his daughter Gianna Bryant, and her teammates, Alyssa Altobelli and Payton Chester, who were all WNBA stars in the making. No word on just how that will look, but we can't wait to see what will surely be a beautiful tribute.
Can't wait! How can I watch?: The action starts at 7 p.m. ET on ESPN in the US (because they finally got their sh!t together) and TSN and Sportsnet in Canada. Get your quarantine snacks rea