WNBA: Four teams still fighting for two playoff berths in final weekend of regular season
August 12, 2022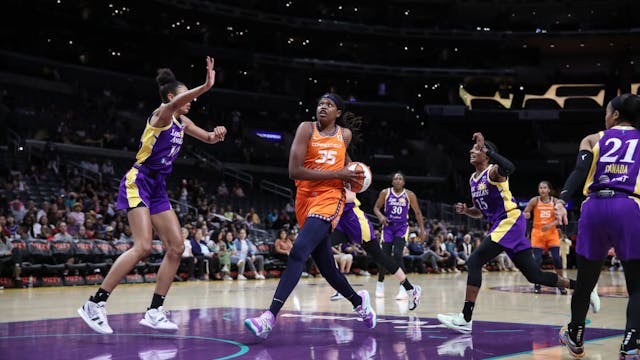 SOURCE: JEVONE MOORE/ICON SPORTSWIRE VIA GETTY IMAGES
The GIST: With four teams fighting for two remaining playoff berths, the WNBA chose chaos heading into the final weekend of regular season play. Here's a live look at us trying to decipher how it'll all shake out.
Where things stand: The LA Sparks were eliminated from postseason contention following last night's 93–69 loss to the Connecticut Sun, but that's just about all that's confirmed with only two game days remaining.
As for the already clinched squads, the Chicago Sky and Las Vegas Aces are duking it out for the No. 1 seed while the Seattle Storm and Washington Mystics fight for No. 4 (and crucial home-court advantage).
Meanwhile, the Minnesota Lynx, NY Liberty, Atlanta Dream and Phoenix Mercury (now playing without Brittney Griner, Diana Taurasi and Skylar Diggins-Smith) all have the same record and are in the hunt for two open playoff spots. Couldn't have written it better.
What to watch: Everything, TBH. But if you have to choose, tonight's 7:30 p.m. ET and Sunday's 2 p.m. ET matchups between the Liberty and Dream. If one squad wins both games, they'll punch their playoff ticket. And if they split? Well, that opens up a whole can of worms.
And grab your tissues for tonight's 9 p.m. ET meeting between the Storm and Lynx. Not only does it have major playoff implications, it also features two retiring legends, Seattle's Sue Bird and Minnesota's Sylvia Fowles.