Let's get it started
May 14, 2020
Okay, don't look now, but we're pretty sure we see live sports on the horizon. Like, real, professional, honest-to-goodness sports.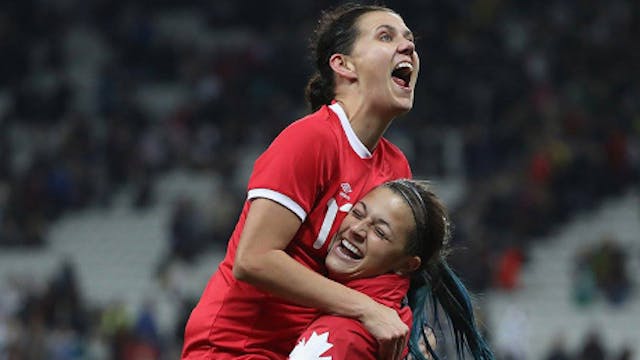 ROBERT CIANFLONE/FIFA
The GIST: Okay, don't look now, but we're pretty sure we see live sports on the horizon. Like, real, professional, honest-to-goodness sports.
Sports? Here? Now?!: Yes! Let's start with soccer. Germany's Bundesliga starts on Saturday, and even if you don't sprechen Deutsch, you can still be super pumped. Meanwhile, England's Premier League is looking at a June 1st return, while Italy's Serie A has a start date set for June 13th.
Here in North America, the MLS is looking at running a tournament in Florida, while the NWSL is ramping up to next month's season start date (knock on wood), allowing individual, on-field practice for players (in states that have relaxed lockdowns, of course). There are still a ton of safeguards in place to ensure safety though, including wearing face masks everywhere but on the field, temperature checks and goal post sanitization.
Cool! Any other sports?: Golf is back too. And it's a pretty safe sport to play right now considering it's played outdoors, has individualized gameplay and most players wear gloves anyway. The South Korean women's golf tour starts today (!!!) with the KLPGA Championship in Seoul. Although no North Americans are playing, three of the top 10 women's players in the world are, so we're v. much here for it.
The PGA has had a June 11th start date set for a while, and now they have a pretty comprehensive safety plan to ensure everything goes well. They've chartered planes for all players, caddies and tour officials to travel to the first four tournaments and will house everyone in a "bubble" environment with regular health checks and testing.
Well, that's exciting: Tell us about it! The MLB has a tenative plan to return, too. The proposal, which has the 2020 season starting during the Fourth of July long weekend (fun, right?), was approved by team owners on Monday, and now they just need the players' union to agree (which might not be so easy).
The NHL still hasn't made any decisions, but league commissioner Gary Bettman has high hopes the season will be salvaged. And this week, NBA commissioner Adam Silver announced that he'll make a decision on the season in the next two to four weeks. So, an announcement announcing another announcement. Cool.
Weird. But you're telling me I get to watch sports this weekend, right?: We sure are. In addition to soccer and KLPGA, four of the best male golfers in the world are facing off in a charity skins match called TaylorMade Driving Relief. Rory McIlroy and Dustin Johnson will play against Rickie Fowler and Matthew Wolff for $3 million (all of which will go to charity). Practice your golf claps tonight.