NBA Finals: Curry suffers foot injury in Game 3 loss
June 10, 2022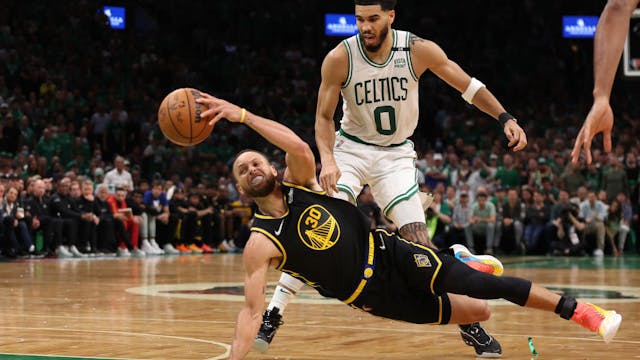 SOURCE: MADDIE MEYER/GETTY IMAGES
The GIST: The NBA Finals have been a war of words as much as they've been a battle on the boards, and now the Golden State Warriors (trailing 2-1) will be looking to settle the score on the Boston Celtics' hardwood tonight at 9 p.m. ET.
Wednesday's Game 3: After being routed in Game 2, the Celtics responded with a statement win of their own, topping the Warriors 116–100. Golden State's Steph Curry netted 31 points, but Boston's trio of Jaylen Brown, Jayson Tatum and Marcus Smart — who notched 27, 26 and 24 points, respectively — was just too much to handle.
Another issue for the Warriors? Foul trouble. Starter Draymond Green fouled out for the second time this series (yes, they've played only three games) while scoring just two points. At least he didn't mince words about his performance.
Tonight's Game 4: The biggest question mark? How Steph Curry will play. While he's expected to dress, the Warriors star suffered a foot injury in Game 3 and it's unclear how it'll impact his game.
If Chef Curry can still cook up some magic, this thing will be all tied up heading back to The Bay. But if Boston's defense puts on the clamps like they did in the fourth quarter of Game 3, the Cs will be one win away from the title. Dun, dun, dun…