Phoenix Mercury star Brittney Griner pleads guilty to charges
July 08, 2022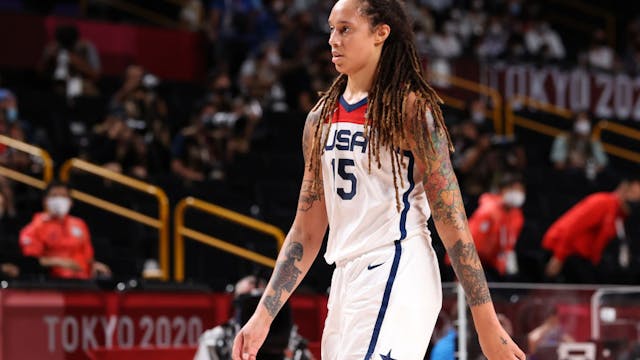 SOURCE: GREGORY SHAMUS/GETTY IMAGES
The GIST: Brittney Griner's wrongful detainment in Russia saw a major twist yesterday when the Phoenix Mercury star pled guilty to charges of carrying hashish oil. But the guilty plea isn't what sensationalist headlines make it seem, and it could be the key to Griner's release.
The context: Griner's ongoing trial is likely part of Russia's efforts to make her detainment seem credible — a tactic that could be an attempt to gain leverage in ongoing negotiations with the U.S. for her release.
But it's chess not checkers, and, as reported by ESPN's T.J. Quinn, BG's guilty plea was an expected next action.
Why? As part of any prisoner swap, it's likely the Russians would've wanted Griner to "admit" her guilt, so this early guilty plea is a way to meet that requirement and help negotiations move forward as quickly as possible. Whatever works at this point.
What's next: Despite the guilty plea, it could still be a long road ahead. The trial — based on Griner's legal statement — is expected to end around the beginning of August. Meanwhile, U.S. Secretary of State Antony Blinken said yesterday that U.S. Embassy officials delivered Griner a return letter from President Biden.
Blinken also reiterated the State Department's commitment to bringing Brittney and other wrongfully detained Americans home. Can't come soon enough.