A celebration to last throughout the years
May 18, 2020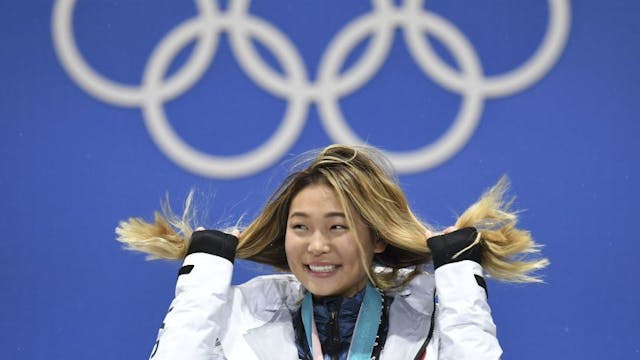 SEAN M. HAFFEY/GETTY IMAGES
The GIST: It's mid-May, which means we're smack-dab in the middle of Asian and Pacific Islander American Heritage Month in the US and Asian Heritage Month in Canada. So today we're celebrating the successes of five North American female athletes of Asian descent who've proven their power on a global scale.
Michelle Kwan: This beloved retired American figure skater is hands down one of the greatest figure skaters of all time. Known for her consistency and creative expression (including her beautiful spiral), Kwan is the most decorated figure skater in US history, with nine US championships, five World championships and two Olympic medals under her belt, er, dress.
Julie Chu: Sticking with the ice theme, retired hockey player Julie Chu became the first Asian American to play for the US Olympic hockey team, in 2002. The former captain is a four-time Olympic medalist, five-time World champion and Harvard graduate. What, like it's hard?
Chu and her wife, former Canadian hockey captain Caroline Ouellette (talk about keeping your enemy close…), now coach university hockey together and just welcomed baby number two to the family. S'cute!
Carol Huynh: You don't want to mess with Carol Huynh. The now retired wrestler is a two-time Olympic medalist (winning gold in Beijing in 2008 before earning a bronze in London four years later) and 11-time national champion. Huynh was her family's first Canadian-born child after they immigrated as refugees from Vietnam.
Mohini Bhardwaj: Who doesn't love a comeback kid? Born in Philadelphia to an Indian father and Russian mother, Mohini Bhardwaj was an All-American gymnast at UCLA and a star on the national team before an injury forced her to retire in 2002.
Eager to get back competing but low on funds, Bhardwaj found unlikely financial support from actress Pamela Anderson and was able to return to glory and become the first Indian-American gymnast to medal at the Olympics, winning a silver in Athens in 2004. Amazing.
Chloe Kim: At the ripe age of 17, American Chloe Kim became the youngest woman to win an Olympic snowboarding medal when she won gold in the women's snowboard halfpipe in 2018, taking both the snowboarding world and Twitter world by storm (thanks to her relatable AF tweets).
According to her, she is, "so proud to get to represent the Asian American community every time I go out and compete. We're badass, and I hope that the world sees that. It's an honor I wear proudly."