MLS Playoff Picture
November 26, 2020
No Canadian teams left in 2020 MLS playoffs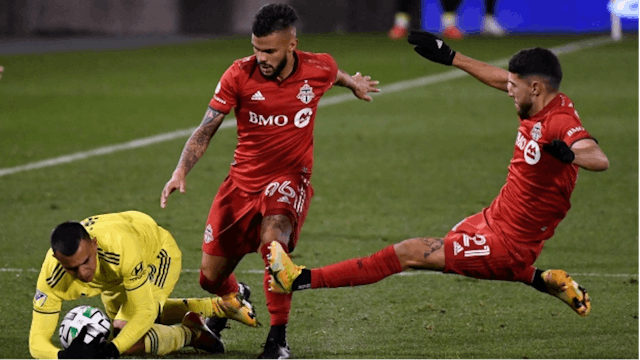 SOURCE: JESSICA HILL/AP
The GIST: Today's soccer news should come with a warning: this section might bum you out.
Why's that?: Let's start in the MLS, where there are no Canadian teams left in the postseason. After the Montreal Impact lost last week's play-in game, all our hopes were on Toronto FC (TFC). The No. 2 team in the Eastern Conference faced No. 7 Nashville SC on Tuesday night, and after a scoreless 90 minutes, Nashville notched a heartbreaking goal in overtime to send TFC packing.
To be fair, that wasn't even the biggest upset of the first round. That came courtesy of the play-in-winning New England Revolution, who unexpectedly beat the No. 1 team in the league, the Philadelphia Union, 2–0 on Tuesday. Wild.
Any other news?: Oh, it gets worse. Argentinian legend Diego Maradona (not to be confused with Madonna) passed away yesterday. Maradona was one of the greatest players of all time, known for his short stature, incredible talent, high-flying lifestyle and two of the most legendary goals in international soccer history...during the same game.
In a 1986 FIFA World Cup match between Argentina and England, Maradona scored the infamous "Hand of God" goal, followed by the highly regarded "Goal of the Century" just minutes later. What a legend.
Can you tell me something good?: Yes! Canada Soccer president Nick Bontis had a pretty solid soundbite earlier this week, when he said he's willing to "work my butt off to get an NWSL club in Canada." The governing body's newly appointed boss also committed to advancing the senior women's and men's programs and growing the game in Canada. Here for it!