It's (not) handled
February 20, 2020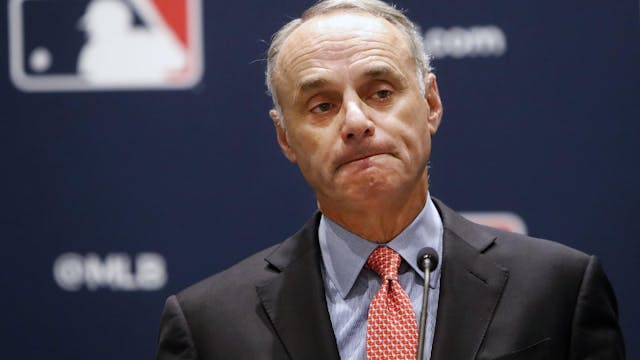 The GIST: The MLB's sign-stealing scandal looked like it was over, but now there are more plot twists than Betty and Jughead's cases on Riverdale.
Quick, remind me how this started: In January, the Houston Astros were found guilty of illegal sign-stealing — using technology to decipher signals from the opposing team's catcher, pitcher and coaches to predict the next pitch — during their 2017 championship-winning season. The MLB fined Houston $5 million (which, although it is the largest allowable fine in baseball, it seems like chump change to us), gave one-year bans to the now-fired manager and general manager and revoked a few important draft picks.
Got it. Then what?: Last week, an exposé revealed that the scheme began with one of the MLB's most famous and now-retired players, Carlos Beltrán — the so-called "Godfather" of sign-stealing — when he joined the Astros in 2017. We also learned that the Astros' executives not only knew about the sign-stealing, but also had an intern (c'mon guys) create an Excel spreadsheet called "Codebreaker" (double c'mon guys) to help keep track of everything.
Woah. So, what's the latest?: League commissioner Rob Manfred has, of course, come under intense scrutiny for how he chose to handle (or not handle) the crisis. Manfred didn't penalize any players involved, didn't revoke Houston's 2017 World Series title and didn't take away second baseman José Altuve's 2017 American League (AL) MVP Award.
On top of all that, things got worse on Monday when Manfred referred to the World Series trophy as "a piece of metal"...yeah that actually happened.
Jeez. What are people saying about this mess?: You better believe that athletes (even those in other sports) and fans are not happy about it. And, boy, have people let Manfred know how they feel.
Even the usually soft-spoken New York Yankee outfielder Aaron Judge made it known that he felt "sick to his stomach" about the Astros' actions and specifically Altuve, who narrowly edged him out for the AL MVP Award that year. NBA star LeBron James also sounded off, taking to Twitter to express his disgust. Yeah, you and us both.
What's The GIST's take?: Like a lot of people, we feel cheated. It's not just scandals that create trust issues with baseball, it's also the messy, and arguably unfair, way they're handled that ruins the integrity of the sport — a sport that's been so widely loved for more than a century. If this off-season is any indication of what this regular season will be like, hang on to your hats, because it will definitely be a rollercoaster.