Biden proposes prisoner swap to bring Brittney Griner home
July 29, 2022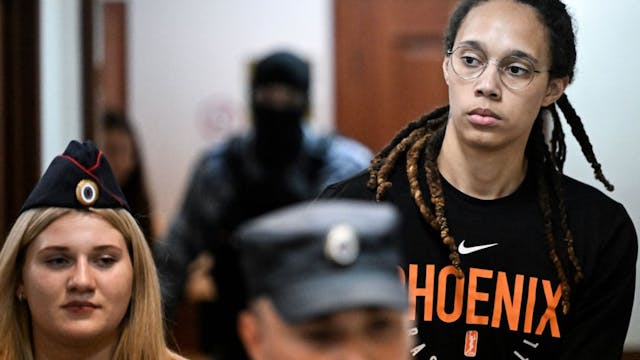 SOURCE: KIRILL KUDRYAVTSEV/AFP VIA GETTY IMAGES
The GIST: After repeated pleas for action, the Biden administration made a major move Wednesday in the effort to free Phoenix Mercury star Brittney Griner (BG) from her wrongful detainment in Russia. Needless to say, the ball's in Russia's court.
The latest: Per CNN, the Biden admin reportedly offered convicted Russian arms dealer Viktor Bout (known as "The Merchant of Death") in exchange for the release of Griner, as well as American Paul Whelan, a security director accused of espionage.
Secretary of State Antony Blinken did not confirm Bout's inclusion in the offer, only conceding that the admin presented a "substantial" proposal to Moscow in exchange for Griner and Whelan.
What's next: Now it's up to Russia to accept or reject the deal. A Kremlin spokesperson said yesterday that prisoner swaps are typically only made public after the deal's been finalized, a noteworthy response in itself given they didn't immediately shoot down the offer.
Looking ahead, Griner's ongoing trial is reportedly scheduled to end next week, with a verdict and sentence expected one week from today.
Even if BG's sentenced, it could be the pivotal next step in securing her release, as Russia has said they won't discuss a deal until her trial is over. More to come.