I like the pick-and-roll
May 14, 2020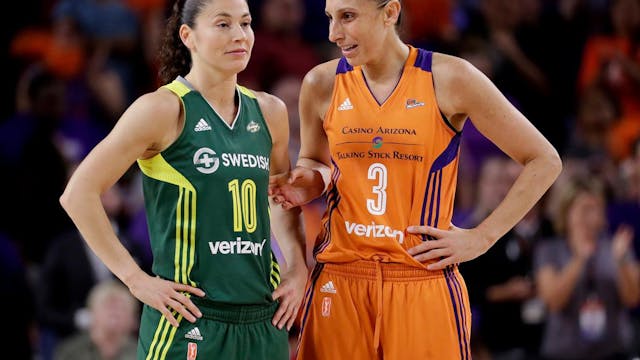 MATT YORK/ASSOCIATED PRESS
The GIST: The 2020 WNBA season was originally slated to start tomorrow. Now, it's anyone's guess as to when the season will actually begin. Sad. So, in honor of the postponed WNBA season, we're counting down the top five WNBA players of all time. Buckle up.
5. Sue Bird: One half of our favorite power couple, Bird's 18-year career with the Seattle Storm has been nothing short of spectacular. The point guard is an 11-time All-Star, three-time WNBA champion and is the WNBA's all-time assist leader. She knows sharing is caring. Bird was sidelined last season with a knee injury but is ready to go for 2020. Look out.
4. Lisa Leslie: You can't have any top players list and not include Hall of Famer Leslie. Widely considered WNBA royalty, Leslie became the first woman to dunk in a WNBA game in July 2002. You could say she's a literal ceiling smasher. Leslie spent her 12-year career with the Los Angeles Sparks, winning two championships and earning three MVP titles. Talk about a stacked resume.
3. Maya Moore: Before taking the 2019 and 2020 season off to fight for (and succeed at) reforming the criminal justice system, Minnesota Lynx Moore won four WNBA titles and was named the Finals MVP in 2013 and league MVP in 2014. We're all for the work Moore is doing off the court, but, selfishly, we'd love to see her hit the hardwood again, like, ASAP.
2. Tamika Catchings: In some circles, Catchings is considered the best WNBA player of all time. Catchings spent her entire 15-year career with the Indiana Fever, winning the championship in 2012 (she won the Finals MVP that year, too). She's the WNBA record holder for steals (sneaky sneaky) and is a 10-time All-Star and five-time Defensive Player of the Year. A true legend.
1. Diana Taurasi: Our top spot goes to the one, the only, Diana Taurasi. Taurasi is the league's all-time leading scorer, a nine-time All-Star and a three-time WNBA champ. After being drafted first overall in 2004, she's had a killer career with the Phoenix Mercury. And though retirement rumors have been swirling recently, Taurasi will play this season. The good news we need!
Okay. It was really, really hard to make that list. We have to give special shout-outs to Sheryl Swoopes, Tina Thompson, Candace Parker, Elena Delle Donne and Breanna Stewart, who would have rounded out our top 10.