NBA Play-In Tournament
May 13, 2021
The GIST: The NBA is bringing back the fan-favorite, but not player-favorite play-in tournament, so here's "the gist" on it as we head into the final weekend of the NBA's regular season.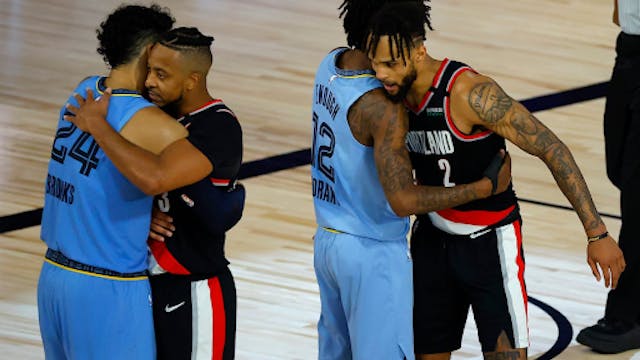 Source: Kevin C. Cox/USA TODAY Sports
The tournament: Introduced during last season's bubble, the play-in tournament has been expanded this year so that four teams — the seventh through 10th seeds at the end of the regular season — from each conference participate.
The No. 7 seed faces the No. 8 seed in each conference and the winner of that game becomes the No. 7 seed in the playoffs. Meanwhile, the No. 9 seed squares off against the No. 10 seed in each conference and the loser of that game wraps up their season.
Locked in: Five teams have already punched their ticket to the play-in tournament which starts on Tuesday, May 18th. In the East, the Boston Celtics, Charlotte Hornets and the Indiana Pacers are locked, and in the West, it's the Golden State Warriors and Memphis Grizzlies.
On the bubble: Several teams sit on either side of the anxiety-inducing play-in bubble. The LA Lakers, for example, currently sit in seventh in the Western Conference. A few wins this weekend could bump them into sixth place and allow them to avoid the play-in, but status quo means they'll play the No. 8 seed next Tuesday.
On the flip side, the Washington Wizards and Chicago Bulls in the East and the San Antonio Spurs, New Orleans Pelicans and Sacramento Kings in the West are playing for ninth or 10th place. Grab your popcorn, we're in for a bumpy ride.