NBA Canada Series presented by Bell: Just hold on, we're going home
October 06, 2022
It's time for the preseason, baby. And the anticipation for the upcoming 2022–23 season is at an all-time high, thanks to the NBA Canada Series presented by Bell. Ahead of the Toronto Raptors' final preseason game on October 14th in Montreal, our pals at The GIST break down why it's so special, recap highlights from the first game in Edmonton and preview what to expect dans Montreal.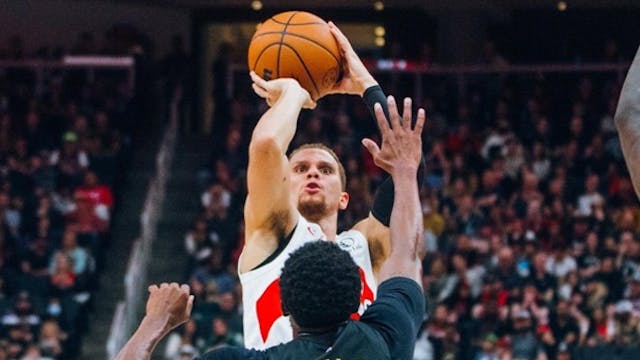 Source: NBA Canada/Twitter
The GIST: Basketball may be America's bread and butter, but every time our neighbors to the south shoot hoops, they should really . Before the 2022–23 season starts on October 18th, the NBA is hosting two high-octane preseason games outside of Toronto — the Raptors aren't just Toronto's team, after all.
The history: The first NBA Canada Series presented by Bell game was back in 2012, when the Raptors hosted () Carmelo Anthony and his NY Knicks in Montreal. Since then, 14 teams have played exhibition games in five provinces, with more than a quarter million Canadians showing up to root for their home team. #WeTheNorth indeed.
Stand out: What makes NBA Canada Series presented by Bell so special? Regardless of the sport, preseason games don't normally get the fans going, but that's definitely not the case here. Both of this year's games sold out, with nearly 20K fans cheering on the Raptors at each.
Game 1 recap: This year's first exhibition game tipped off on October 2nd in Edmonton, where Toronto scored after in their 114–82 victory over the Utah Jazz.
Canadian fed off the crowd at , leading the Raptors with a double-double, while his fellow countryman trailed closely behind with nine points. Montreal native also grabbed some minutes, and between the two teams, five Canadians saw the floor in the game.
Game 2 preview: Next up, the Raptors will face the 2022 Eastern Conference champions, the Boston Celtics, on October 14th at 7 p.m. ET on TSN. The league is sending it back to Montreal for this preseason tilt — a location in which the Raptors have never lost. Tres bien.
That said, the Toronto-Boston rivalry is only growing, and Celtics all-stars Jayson Tatum and Jaylen Brown are sure to stir up some trouble if they see the court.
Just like we saw in Edmonton, expect to see a few iconic faces at the Bell Centre, including a certain Canadian WNBA superstar. We can't reveal our sources, but be sure to watch this space.
Next steps: Feeling stoked? So are we. For even more details about NBA Canada Series presented by Bell and to keep up with the league's global growth, and .