Who Won the MLB World Series?
November 03, 2021
The GIST: For the first time since 1995, the Atlanta Braves are World Series champions.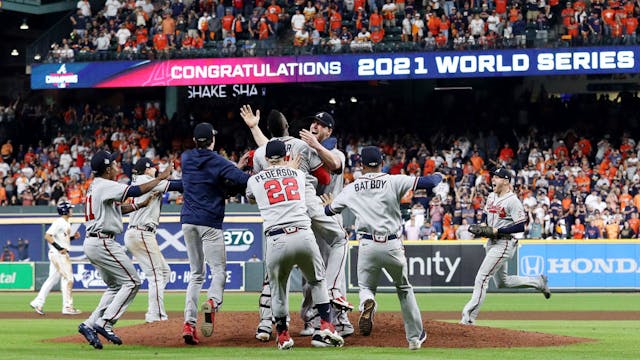 SOURCE: CARMEN MANDATO/GETTY IMAGES
How they did it: Designated hitter and World Series MVP Jorge Soler blasted a three-run homer (that probably still hasn't landed) in the third inning, then Dansby Swanson (USWNT star Mallory Pugh's boyfriend) hit a two-run shot of his own in the fifth.
And Mr. Brave himself, first baseman Freddie Freeman delivered the final blow, a solo home run in the seventh, lifting Atlanta to a dominant 7–0 win over the Houston Astros — a victory for rule followers everywhere.
After losing star outfielder Ronald Acuña Jr. to a season-ending ACL tear in July and having ace pitcher Charlie Morton go down with a broken leg in Game 1 of the World Series, Atlanta battled through the adversity to claim this title.
What's next: With the 2021 season in the books, all eyes now turn to December's Collective Bargaining Agreement (CBA) expiration date. Spoiler alert: there's no new CBA in sight and a work stoppage is "almost certain." Stay tuned…