The WNBA Played a Role in Warnock's Georgia Senate Seat Win
January 08, 2021
The GIST: It's been a rollercoaster of a week in American politics, and, of course, sports had an important role to play in all the ups and downs. Let us take you on a journey through the start of 2021.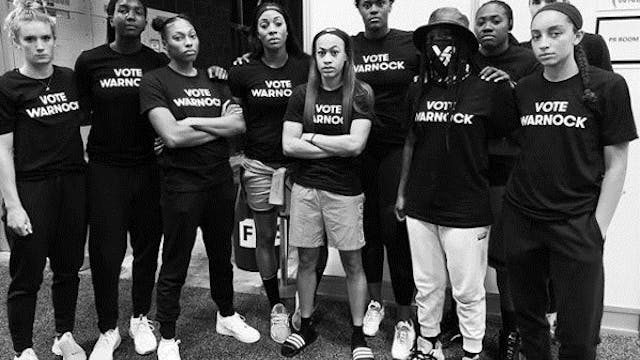 SOURCE: E_WILLIAMS_1, INSTAGRAM
Monday: A day before the Georgia runoff election, the WNBA's Atlanta Dream shared a video of its players encouraging their Georgian fans to get out and vote for Senate candidate Reverend Raphael Warnock. Now that's how you leverage momentum.
The catch? Warnock's opponent is the Dream's co-owner, Kelly Loeffler. You may remember her July 2020 letter to the WNBA commissioner, in which she opposed the Black Lives Matter movement and her team's involvement in it, saying the "political movement" didn't align with the league's values. No thank you, please.
Tuesday: The Dream's ringing endorsement was the push Warnock needed to beat Loeffler and become Georgia's first-ever Black senator. The players celebrated their owner's defeat on Twitter, and so did LeBron James, who tweeted his interest in buying the Dream team.
Wednesday: And then yesterday happened. There really aren't words to accurately capture the day's essence. As Congress gathered to confirm the presidential election votes, mostly white protestors stormed the Capitol Building in Washington, D.C., vandalizing the historic property in an attempt to disrupt democracy.
The big picture: Similar to these athletes, we can't help but think about the blatant differences in how yesterday's rioters were treated compared to the BLM protestors of last summer. Unfortunately, it was yet another demonstration of the impact of divisive leadership and institutionalized racism. Hypocrisy is alive and well.