We aren't the champions
April 19, 2021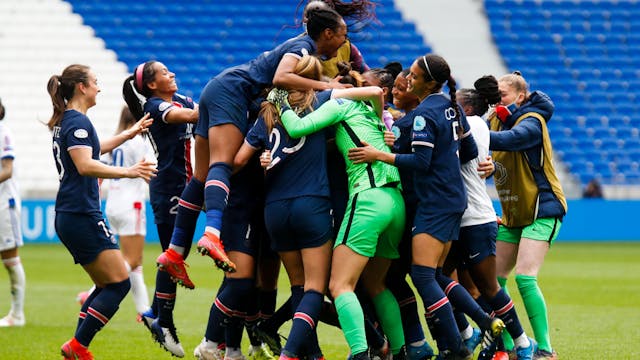 Source: UEFA Women's Champions League/Twitter
The GIST: While the NWSL and MLS seasons are trucking along (check out the NWSL's schedule here with USWNT and CanWNT players returning this week, and the MLS opening weekend scores here), there's major drama on and off the soccer football pitch across the pond.
On field: Lyon's Women's Champions League (UWCL) streak will end at five trophies. The heavily favored defending champions were upset2–1 in the second leg of the UWCL quarterfinals this weekend by their domestic rivals, Paris Saint-Germain (PSG).
The match was postponed for over two weeks while Lyon dealt with a COVID-19 outbreak, but they were back to full strength yesterday. No excuses!
PSG will face Barcelona in the semifinals, while Bayern Munich will meet Chelsea. The first leg of the semis starts on Saturday, and you can follow along here.
Off the field: The men's Champions League (UCL), on the other hand, is in peril after 12 of Europe's top teams — including Barcelona, Juventus, Manchester City and Manchester United — announced plans to split from the UCLand start their own European Super League (ESL). Oh sh!t.
Why? Well, despite generating the majority of the revenue, these powerhouse clubs currently split UCL gains between allparticipating teams. And after pandemic-induced financial blows, the proposed ESL would give teams more autonomy and financial control.
But the news has not been well received. Every football association the 12 teams belong to, including UEFA and FIFA, has condemned the ESL and threatened to ban the teams and players from participating in any other competition. Fighting words.