Hey hey hey, goodbye
April 16, 2020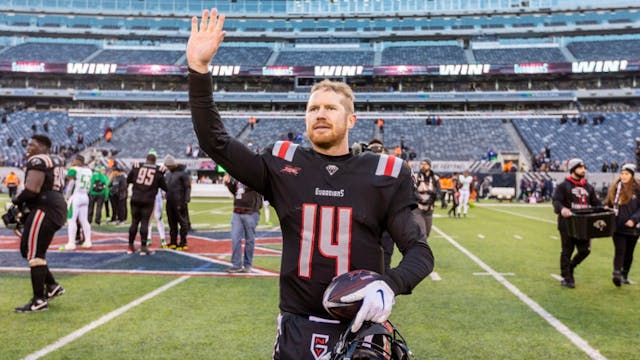 SOURCE: JOE HERMITT/AP
The GIST: It's not just cancelations and postponements these days. Nope, the sports world has now seen its first league shutdown amidst the COVID-19 pandemic. Ouch.
Yikes! Which league?: The very new XFL. The football league, which was supposed to be the younger, funnier cousin of the NFL, was halfway through its first season when play was stopped on March 12th because of the pandemic. With the second half of the season canceled, the XFL laid off all employees last week before filing for bankruptcy on Monday. You hate to see it.
On the other end of the spectrum, the National Women's Hockey League (NWHL) is apparently looking to expand to Toronto. Although this news actually has nothing to do with COVID-19, it's worth noting that a league with millions of dollars and media support is folding, while a league lacking those resources is expanding. Pretty wild.
Very. Any other postponements?: Oui. The historic Tour de France cycling race is being postponed from its late June start date to August 29th. Not a big change, but the Tour hasn't been canceled since WWII, so hopefully that will still hold true.
Does any league have a plan for returning yet?: The PGA seems pretty optimistic that they'll be able to fire up the golf season in June. That said, the first tournament will take place without spectators, and plans for the PGA Championship in August (the first major of the season) includes scenarios without them, too. Honestly, we'll still take it.
The NHL is a little more hesitant. Commissioner Gary Bettman says they're keeping their options open and won't commit to any firm timelines or plans of action, but he did say his best guess would be a summer start. Again, fine by us!
Anyone else?: Dr. Anthony Fauci (aka the voice of reason) wants to see his reigning World Series champion Washington Nationals play again, so he has an idea. The director of the National Institute of Allergy and Infectious Diseases says that if physical distancing measures continue and the curve flattens, the MLB could return, albeit in empty stadiums, by July 4th. Now that would be the best Fourth of July present...ever.
And over in the NBA, various execs are proposing a 25-day plan, in which players would go through an 11-day individualized training camp to start getting back into game shape, followed by two weeks of actual training camp with teammates. No word on when this would start, as the league says they won't make a decision until May.