Warriors secure fourth championship in eight years
June 17, 2022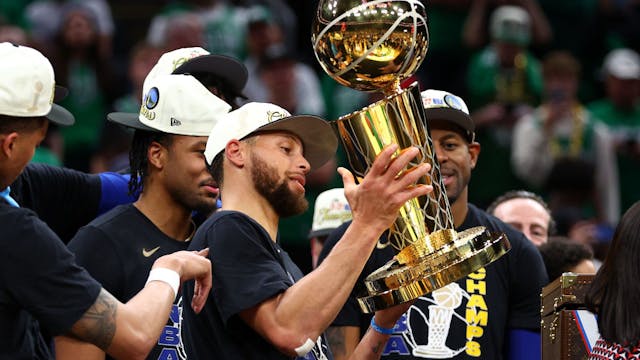 SOURCE: ELSA/GETTY IMAGES
The GIST: Queue up "Trophies" (alongside Drake's new album) because, for the fourth time in eight years, the Golden State Warriors are your NBA champions. Dynasty, cemented.
Last night's Game 6: Though the Boston Celtics jumped out to an early 10-point lead, Golden State came roaring back, going on a 21–0 run in the second half — surpassing the Finals record previously set by…the 2019 Warriors — en route to their dominant 103–90 win.
Their fearless leader? Steph Curry, who netted 34 points to finally secure that elusive Finals MVP title. Cookin' with the sauce.
Plus, young breakout stars Andrew Wiggins and Jordan Poole poured in 18 and 15 points of their own, respectively.
The dynasty: This marks Golden State's seventh franchise title, and it took astounding resilience to secure it. Curry and their emotional leader, Draymond Green, missed long stretches of the season with injuries, while Klay Thompson triumphantly returned to the floor in January for the first time in nearly three years after tearing his ACL (in Game 6 of the 2019 Finals) and Achilles back-to-back.
The victory also caps off a historic season for Ayesha's husband, who became the NBA's all-time leading three-point scorer in December.
The problem for the rest of the league? With their young core of Poole and Wiggins improving and their big three of Curry, Thompson and Draymond locked and loaded, these Warriors aren't going anywhere.