Miami Heat Take Game 3 Against Los Angeles Lakers
October 05, 2020
Despite a slow start, the Heat are showing signs of life.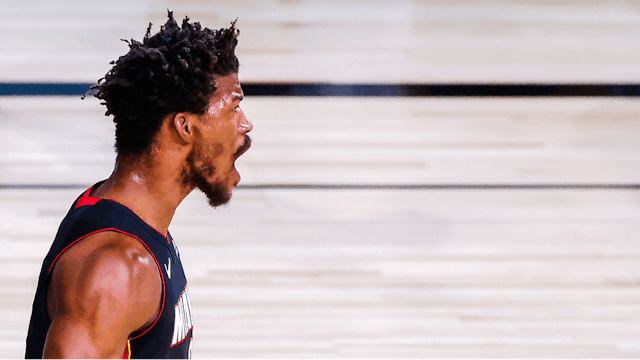 SOURCE: MIAMI HEAT /TWITTER
The GIST: The Miami Heat are finally showing signs of life. After a slow start to the NBA Championship Finals, the Heat are ready to compete.
How so?: Jimmy Butler and the Miami boys took home a win last night. The first two games of the best-of-seven series were easy blowouts for the expected-champion LA Lakers, but the Heat started Game 3 with a vengeance, leading almost the entire game. While the game was tight throughout, the Heat pulled ahead in the fourth quarter to post their own blowout score, 115–104.
Butler was the star of the show, with a 40-point triple-double in his best career game (playoffs or otherwise). No one else even came close, with Kelly Olynyk and Tyler Herro each putting up 17 points. Must be all that Big Face Coffee. They'll want to load up on more ahead of tomorrow night's Game 4, which tips off at 9 p.m. ET.
And what's up with the WNBA?: The Seattle Storm is a-ragin'! After taking yesterday's Game 2 with a 104–91 win, the Storm are now up 2-0 in the best-of-five championship series against the Las Vegas Aces. The Storm have won both games by a 13-point margin, thanks to solid defense and a stacked offense.
Former MVP Breanna Stewart scored 22 points in Game 2 while Alysha Clark and Natasha Howard each put up 21, showing the depth of talent on this team.

The GOAT Sue Bird followed up her record-setting performance (in which she recorded 16 assists — the highest-ever in a single Finals game) with 16 points yesterday. Game 3 is set for tomorrow at 7 p.m. ET. Come for the basketball, stay for the possible championship celebration.