March Sadness
March 19, 2020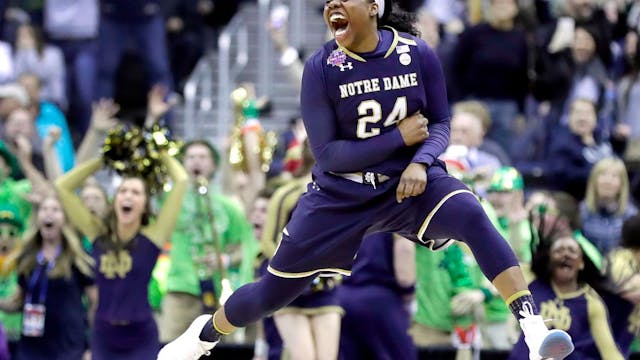 The GIST: Let's face it. March 2020 has...not been great. And one thing we're really missing (outside of social contact) is NCAA basketball's March Madness tournament. So, in honor of the tournament that wasn't, we wanted to highlight the top five moments of women's March Madness recent past.
5. Brittney Griner is an absolute force to be reckoned with. Currently playing for the Phoenix Mercury in the WNBA, she's been a powerhouse for at least a decade. While playing for the Baylor Lady Bears in 2010, 6'9" Griner (please lend us some height) blocked 105 balls (!!!) over just 18 games. To put that in perspective, that's an average of 5.83 blocks per game. The best blocker in NBA's history made an average of 3.5 blocks per game. Sheesh.
4. March Madness is all about Cinderella stories, and no, not the Hilary Duff–Chad Michael Murray kind. For this one, we're taking it back to 2013, when the Louisville Cardinals became the lowest seed (at No. 5...generally the women's tournament stays pretty true to its rankings) to reach the national final after beating top-seeded Baylor and No. 2 Tennessee in the Sweet 16 and the Elite Eight. They lost to UConn in the final, but it was an effort worth paying attention to.
3. Last year's final between Baylor and Notre Dame featured two boss female coaches in Baylor's Kim Mulkey and Notre Dame's Muffet McGraw (it was just the eighth time in 20 years two female head coaches squared off) and was a game for the ages. Despite losing their star player Lauren Cox to a knee injury, Baylor just barely protected their 17-point lead to take the game 82–81. Notre Dame literally couldn't call it a comeback.
2. Although it's hard to believe the UConn Huskies' last national title came four years ago, this list wouldn't be complete if we didn't tip our non-existent hats off to their four consecutive national title wins between 2013 and 2016. With superstar players like WNBA MVP Breanna Stewart and WNBA All-Star Kia Nurse on their squad, it's no wonder they were so dominant.
1. Our number one spot goes to Arike Ogunbowale (pronounced AH-REE-KAY OH-GOON-BOW-WAH-LAY). Arike now plays for the Dallas Wings in the WNBA, but back in 2018 she was the star baller for the Notre Dame Fighting Irish and she had herself a time in the Final Four.
First, with the game tied in overtime at 89 in the national semifinal against UConn, Arike drained a clutch three-pointer with just one second left to get the upset win over UConn, the most historically dominant program in women's basketball. It was a jump-off-the-couch-and-yell moment if we ever saw one, and it caught the attention of greats like the late Kobe Bryant.
But she wasn't done there. With the game tied (yes, again) in the national championship against Mississippi State, Arike drained another three-pointer (yes, again), this time with just three seconds remaining, to give Notre Dame its first title in 17 years. Back-to-back buzzer beaters — you literally can't make this sh!t up.