New kids on the block
March 02, 2020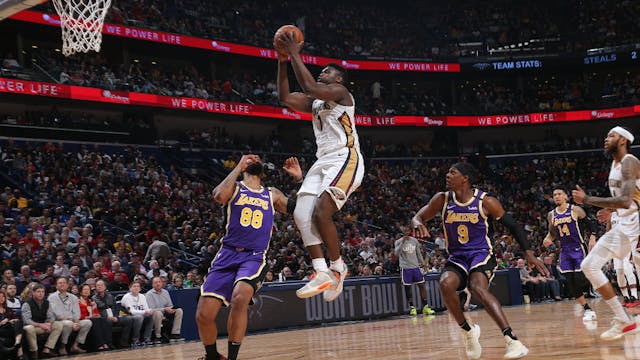 The GIST: With seven weeks left in the regular season, a couple of NBA rookies are proving they could be the key to their teams' postseason chances: No. 1 draft-pick Zion Williamson and No. 2 draft-pick Ja Morant are putting up points, setting records and, most importantly, winning.
Williamson: The New Orleans Pelicans won the NBA Draft Lottery last year and selected Zion Williamson, a freshman from Duke. Then, like an unwritten Alanis Morrisette lyric, Williamson tore his meniscus during the preseason and wasn't able to start his rookie year until January 22nd. And since then, he's been nothing but clutch.
After putting up 35 points last night against the Los Angeles Lakers, Williamson is the first teenager (oh yeah, did we mention he's only 19?) to record 11 straight 20+ point games. He's also leading his team with an average of 24.1 points per game. The Pelicans are sitting just outside of a playoff spot right now, but they'll move up in no time if Zion stays in #BeastMode.
Morant: If you believe the elementary school kid phrase, "First is the worst, second is the best," then you're going to want to hear about Ja Morant. Picked up by the Memphis Grizzlies last year, Morant's stats aren't as jaw-dropping as Zion's, but he's still putting up steady numbers to boost his team into an eighth-seed playoff spot after missing the last two postseasons.
Morant had the best game of his young career on Saturday in a lopsided 105–88 win over the Lakers (aka the best team in the Western Conference). Morant recorded 27 points and then dedicated his performance to a Twitter troll who told Ja he "didn't have the fire" in his eyes anymore. Nothing like proving the haters wrong.
Elsewhere in the NBA: The injury bug has a stronghold on a few favorites this season. Steph Curry, star of the once dynastic (but now worst-tastic) Golden State Warriors, is still out after breaking his hand on October 30th . He was supposed to be back in the lineup yesterday, but his hand is keeping him out just a little longer. Welp.
The injury bug paid another visit to the North, with Toronto Raptors starters Fred VanVleet and Serge Ibaka sitting out of yesterday's game against the Denver Nuggets. The Raps are missing these guys: they've now lost three in a row. Yikes.