NBA Playoffs: We're soarin', flyin'
April 29, 2022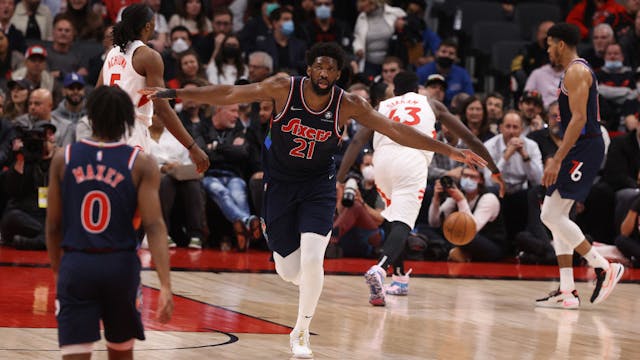 SOURCE: STEVE RUSSELL/TORONTO STAR VIA GETTY IMAGES
The GIST: With only one first round series still in action, the conference semifinals are just around the corner.
Who closed it out: In the Eastern Conference, after leading 3-0, the No. 4 Philadelphia 76ers avoided humiliation by defeating the No. 5 Toronto Raptors 132–97 in last night's Game 6. Our Raps gave it their all, but MVP candidate Joel Embiid was too much to overcome. That said, we're still proud of our dinos, and with Rookie of the Year Scottie Barnes, the future's looking real bright.
And in the West, the No. 1 Phoenix Suns and No. 4 Dallas Mavericks both avoided Game 7s by winning their Game 6 bouts against the No. 8 New Orleans Pelicans 115–109 and No. 5 Utah Jazz 98–96, respectively, last night.
And the No. 2 Memphis Grizzlies (up 3-2) can join them if they defeat the No. 7 Minnesota Timberwolves tonight at 9 p.m. ET. Whoever wins the series will face the No. 3 Golden State Warriors, who ousted the No. 6 Denver Nuggets on Wednesday.
Round 2: But wait, there's more. After the defending champion No. 3 Milwaukee Bucks eliminated the No. 6 Chicago Bulls in Wednesday's Game 5, they're set to take on the No. 2 Boston Celtics starting Sunday at 1 p.m. ET in what's sure to be an epic clash of two teams playing their best basketball. Butter that popcorn.