March Madness: Sweet dreams are made of this
March 23, 2022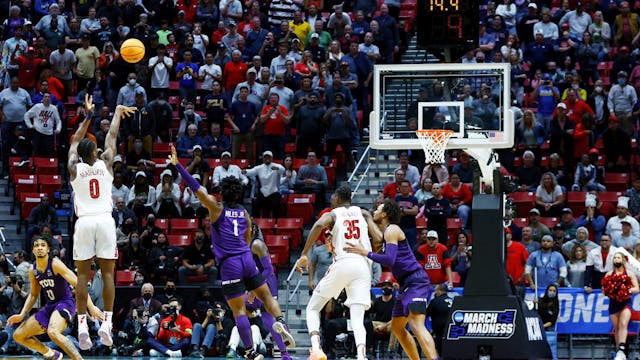 RONALD MARTINEZ/GETTY IMAGES
The GIST: After No. 5 Notre Dame dropped 108 (!!!) points on No. 4 Oklahoma, and No. 4 Tennessee knocked off No. 12 Belmont with a clutch three-pointer on Monday, we can hardly wait for the women's Sweet 16 to begin on Friday.
But first, the men's party tips off with four games tomorrow. Let's dance.
West Region: The fun begins with No. 4 Arkansas vs. No. 1 Gonzaga at 7:09 p.m. ET. Both squads are coming off narrow second-round wins, but the 'Zags looked supercharged down the stretch in a thrilling comeback victory over Memphis. If junior Drew Timme doesn't "give a flying F" again, the top-seeded Bulldogs will be tough to beat.
Then we're in for a treat when No. 3 Texas Tech faces No. 2 Duke at 9:39 p.m. ET. Texas Tech boasts an elite defense, but Duke dazzles on offense, netting 80.2 points per game compared to Texas Tech's 71.7.
South Region: Moving to the other side of the bracket, No. 11 Michigan and No. 2 Villanova square off at 7:29 p.m. ET. 'Nova has quietly dominated the first two rounds while unexpected Cinderella story Michigan has proven the glass slipper fits. But will their carriage turn into a pumpkin tonight?
Rounding out the evening, No. 5 Houston — who has outscored their opponents 150–121 thus far — will battle No. 1 Arizona at 9:59 p.m. ET. Over the weekend, Arizona nearly became the second top-seed to fall, but they held on to beat No. 9 TCU in overtime.