Oops, he did it again
November 16, 2020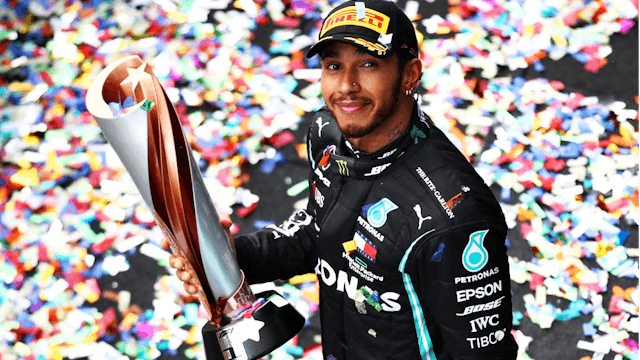 SOURCE: LEWIS HAMILTON/TWITTER
🏎Formula One: Another weekend, another win for Lewis Hamilton...and this time, it was a biggie. Not only was yesterday's wet-and-wild Turkish Grand Prix the 94th win of his career and 10th of this F1 season, but it also meant that Hamilton clinched the F1 Drivers' Championship for a historic seventh time, tying him with Michael Schumacher for the all-time record. #GOAT.
With just three races left in the season, Hamilton still hasn't signed a contract with his long-time team Mercedes for next year. Rumor has it that Lewis might retire from F1 to focus on activism and his new Extreme E team. That said, after yesterday's win, Lewis stated, "I feel like I'm only just getting started," so your guess is as good as ours.
🏀NBA: It's beginning to look a lot like...basketball season! Yesterday the NBA announced a tentative schedule, giving us — and the players, of course — just about five weeks to get into game shape. The regular season is set to tip off December 22nd and run until May 16th, with the postseason (which includes the fan-favorite play-in tournament!) running May 17th to mid-July.
Other changes include playing a 72-game season (instead of the regular 82) and no All-Star Game. The super-soon start date also means the trading window will start today at noon ET, so follow our Twitter and Instagram for all the big-name signings.