MLB Playoffs: Battle in the Bay
October 13, 2021
The GIST: Forget spooky season, nothing gives us goosebumps quite like win-or-go-home October baseball.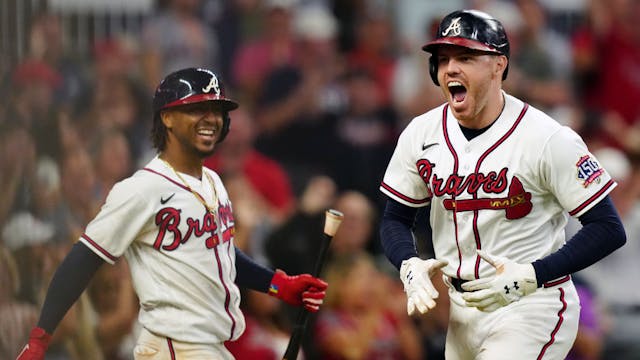 SOURCE: DANIEL SHIREY/MLB PHOTOS VIA GETTY IMAGES
American League (AL): The AL Championship Series (CS) is set. The Boston Red Sox eliminated the defending AL champion Tampa Bay Rays on Monday behind wins. .
Elsewhere, amidst another round of , the Houston Astros eliminated the Chicago White Sox with yesterday's 10–1 Game 4 win.
National League (NL): One team has advanced to the NLCS, but it'll come down to a winner-take-all Game 5 to decide the final spot. Thanks to a clutch solo home run from 2020 NL MVP Freddie Freeman, the Atlanta Braves eliminated the Milwaukee Brewers with yesterday's 5–4 win. While we're eliminating things, let's next, 'kay?
Meanwhile, the defending champion LA Dodgers won at home to force a decisive Game 5 in the Bay vs. the San Francisco Giants tomorrow at 9:07 p.m. ET. Getcha popcorn ready.