Portland Thorns win 2021 NWSL Challenge Cup
May 10, 2021
The GIST: After another weekend of nail-biting, heart-pounding action on both sides of the Atlantic, it's no wonder why stars like the NHL's Alexander Ovechkin are investing in women's soccer.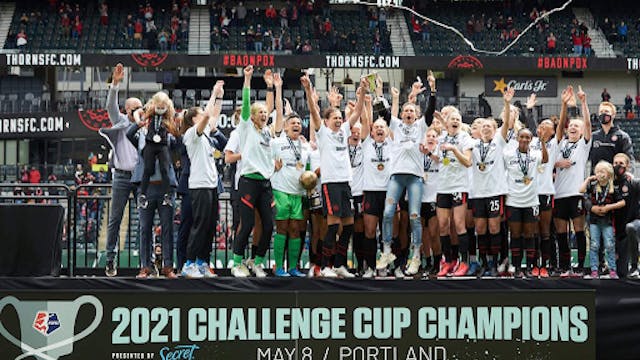 Source: Christine Sinclair/Twitter
NWSL: On Saturday, Portland Thorns FC won the second inaugural Challenge Cup on penalty kicks over NJ/NY Gotham FC. Thorns and CanWNT superstar Christine Sinclair (her 60th NWSL goal, no less) eight minutes in, becoming the league's leading goal scorer among active players in the process.
In the second half, Gotham's Carli Lloyd of USWNT lore at 1–1. And because there's no overtime in the Challenge Cup, the match went through seven rounds of penalty kicks before Portland won 6–5 in the shootout.
Luckily, we don't have to wait long for more NWSL excitement: the regular season starts on Saturday, so be sure to keep your eyes out for our special guide to the season then.
Women's Super League: Before your flare up, a quick reminder that England's top tier women's club soccer is called the Women's Super League (WSL), the counterpart of the men's Premier League. And this weekend, won the league title for a record fourth time.
For an extra dose of Canadiana, Chelsea's only North American player is rising star Jessie Fleming, who's fresh off of her scoring run during CanWNT's recent string of friendlies in the U.K.
Chelsea is now halfway to a rare quadruple win: winning the WSL and (Conti Cup) already, having qualified for the , and waiting to play in the Champions League final against Barcelona on Sunday. Domination.