Empty spaces
April 20, 2020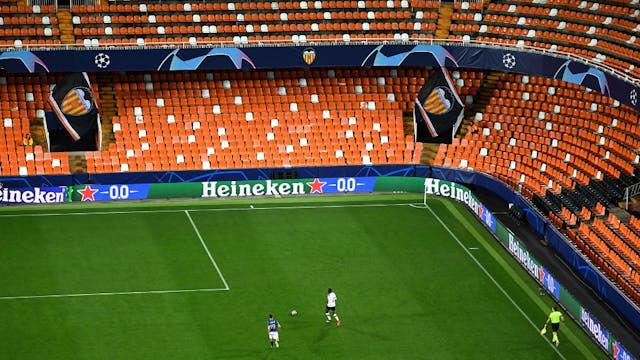 SOURCE: UEFA
The GIST: Although we're still in the thick of the COVID-19 pandemic, sports leagues around the world are seriously looking at options to start play again. The most popular plan? Games without spectators. Weird.
As long as I can watch from home…: Oh, for sure. We'll just have to wait a bit longer. As Germany eases out of lockdown, their top soccer league, Bundesliga, has already begun the process to restart the season. All teams returned to practice last Monday, with players adhering to strict physical distancing guidelines as they get back in game shape. Play is set to potentially resume in mid-May.
And over in Spain, one of the most severely impacted countries, La Liga is gearing up for its return. The Spanish pro soccer league is looking at three possible dates (the soonest being May 28th), and like the Bundesliga, all remaining matches will be played without spectators over the summer months.
Well, that's great...isn't it?: Not totally. In theory, a game without fans would cut down on tens of thousands of people gathering in one spot, which is good. On the other hand, as English professional football club West Ham CEO, Karren Brady, pointed out this weekend, it's still a dangerous option. She estimates between 300 and 500 people would need to be present for a single soccer match, including security, facilities staff, media, players and team staff.
There's also the issue of on-field injuries. If a player gets hurt in a game and needs to be taken to a hospital, medical resources could be taken away from COVID-19 patients and increase the risk for the player to contract the virus while in hospital. Not ideal.
Ah, makes sense. Is it just soccer?: Nope. Tennis, too. Serena Williams' coach Patrick Mouratoglou is starting Ultimate Tennis Showdown, an independent league where players will face off in a controlled environment (i.e., no fans) at his tennis academy in France. And tennis star Rafael Nadal is also getting in on the fun, inviting fellow pros to his academy in Spain to train for the upcoming season and compete against each other for practice (and our television viewing enjoyment!).
On top of that, Nadal is joining forces with the rest of the Big Three of men's tennis as they look to help their fellow ATP players. Nadal, Roger Federer and Novak Djokovic (pronounced JOKE-OH-VITCH) have proposed a relief fund, encouraging top ranked players to donate money to help affected lower ranked players. You love to see it!
And what's happening here in North America?: Money's a bit tight over here. The NBA and NBPA (the National Basketball Players Association) came to an agreement to reduce players' twice-monthly paychecks by 25% starting May 15th, with the funds being held until a decision about the season is made.
The NHL has decided to hold off another month on making any pay decisions, deferring the final paycheck of the year and giving themselves time to maybe (hopefully!) reschedule the remainder of the season instead of canceling outright. Crossing all our fingers and toes!