Who run the world?
February 27, 2020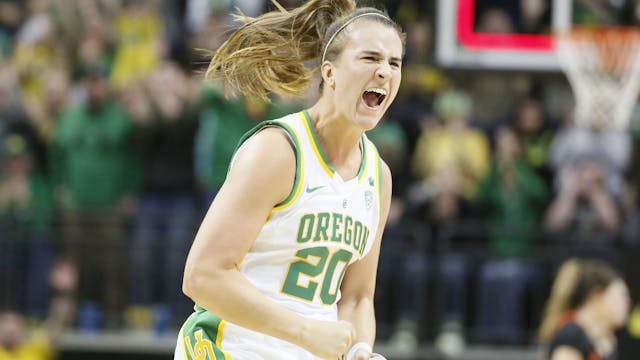 NCAA Basketball: No. 3 Oregon Ducks superstar Sabrina Ionescu (pronounced YOH-NESS-COO) had a day for the ages on Monday: she started the day with a heartfelt speech at Kobe and Gianna Bryant's memorial in Los Angeles, before hopping on a plane to the Bay Area (while dealing with the flu, NBD) and making Division I basketball history (yet again).
Listen to this week's episode of our new podcast, The GIST of It, for more on how the undisputed queen of college basketball is blazing a brand new trail for sports, period.
WNBA: Speaking of basketball legends, WNBA superstar Sue Bird — one half of our fave sports power couple — re-signed with the Seattle Storm on Tuesday, meaning she'll return to the WNBA for a 19th season. The three-time WNBA champion holds the record for most WNBA games played, at 508, but missed last season after sustaining a knee injury in week one. Luckily for us, Bird rehabbed successfully and is ready to continue her legacy when the season starts in May.
Soccer: Last Thursday, the US women's national soccer team, led by Megan Rapinoe (the other half of our fave sports power couple), announced they are seeking $67 million in their continuing lawsuit against the US Soccer Federation (USSF) for gender discrimination. The team filed the lawsuit last year in response to unequal pay, practice facilities and team resources compared to the men's team.
The USSF is asking for the case to be dismissed based on their theory that the players on each team do vastly different jobs and compete differently, saying, "Men are bigger, stronger, faster." Excuse us while our eyes roll to the very back of our heads. The men have never won a FIFA World Cup, while the women have won four, so yeah, we guess winning is a vastly different job.
Tennis: One of the most divisive figures in tennis is retiring. Maria Sharapova, the Russian-born American player, announced her retirement yesterday at the age of 32. Sharapova began her professional career on her 14th birthday in 2001 and won 36 WTA titles, including a career Grand Slam (aka winning all four majors at least once).
Despite her amazing on-court accomplishments, she'll probably best be remembered for her 15-month suspension for using a banned substance and her bitter rivalry with legend Serena Williams. So long, Maria!