I pity the fool
April 02, 2020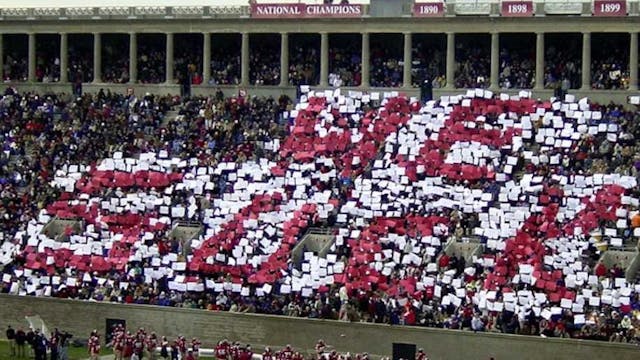 MIKE KAI VIA BUSINESS INSIDER
The GIST: TBH, we're rattled that this sick joke of a year isn't a big April Fools' joke from Mother Nature. But, to honor the spirit of the day, we're highlighting the top five pranks from the sports world.
5. For this one, we're going all the way back to 2004, when all was right in the world and "Yeah!" by Usher, Lil Jon and Ludacris topped the charts. At the annual Harvard-Yale football game, 26 Yale students dressed up as a "Harvard Pep Squad" and handed out over 1,800 colored paper signs (you know, those big cards that fans in stands raise above their heads at sports games) to the unsuspecting Harvard crowd.
The "Pep Squad" then had all of these fans raise their cards at the same time, with the words spelling out "WE SUCK." This stunt, inspired by the Rose Bowl prank in the 1960s, has gone down in the history books as one of the best college pranks ever.
4. Rookies always face some sort of hazing, but this one had it coming. During the 2004–05 NBA season, movie-star Lucy Liu attended a LA Lakers game. And after the game, rookie Tony Bobbitt apparently told everyone that she was staring at him the whole time (he wishes).
In response, a few of the veteran Lakers had a ball boy bring Bobbitt a piece of paper with a phone number on it, saying that it was from Liu, but the number actually belonged to Lakers center Vlade Divac (pronounced VLAH-DAY DEE-VAHTZ).

Bobbitt texted back and forth with "Lucy Liu" (it was actually his teammates), and ultimately set up a dinner date. But, of course, when Bobbitt showed up at the restaurant, it wasn't the Charlie's Angels star waiting for him, it was his teammates. Serves him right.
3. Let's take it back to the 2014 Sochi Winter Olympics. To refresh your memory, there was a lot of, um, #SochiProblems, including stray dogs roaming the streets of Russia. So when US Olympic luger Kate Hansen tweeted a video of a wolf wandering the hallways of her dorm in Sochi, no one questioned it and it was picked up by news and sports outlets in minutes.
However, this was all a big prank beautifully orchestrated by Kate and talk show host Jimmy Kimmel. Watch it all go down here.
2. On April Fools' Day in 2008, cycling magazine VeloNews announced that US cycling Olympians Connie Carpenter and Davis Phinney had created a company in which they would sell their eggs or sperm for $250k each (or both for $1 million!) so that families could create the "ideal champion baby."
Of course, this was an April Fools' joke and the company was fictional; however, many readers took the words at face value and tried to reach out to the company — a new meaning of doing anything to win.
1. We have another Jimmy — this time The Tonight Show host Jimmy Fallon — to thank for this prank. At last year's US Open Grand Slam, Fallon had tennis superstars like Naomi Osaka, Madison Keys, Ashleigh Barty and Novak Djokovic (pronounced JOKE-OH-VITCH) help him prank fans and media by dropping some, shall we say, unusual phrases during their press conferences. You have to see it to believe it.