NBA Finals: Celtics come back in Game 1
June 03, 2022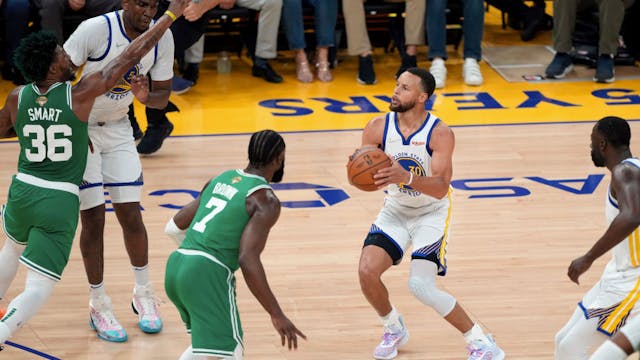 SOURCE: THEARON W. HENDERSON/GETTY IMAGES
The GIST: And they're off. Last night's highly anticipated Game 1 Finals matchup between the Golden State Warriors and Boston Celtics didn't disappoint, with the Celtics jumping out to an early series lead on the road. Just the beginning.
Last night's Game 1: The squads combined to make history in the first half, netting 20 three-pointers total for the most ever in a Finals half, but the Celtics ultimately came out on top with the 120–108 win.
How'd they do it? An incredible fourth quarter comeback, highlighted by strong performances from Al Horford and Jaylen Brown, who netted 26 and 24 points, respectively.
And they overcame an equally impressive performance from the Warriors' Steph Curry — he dropped 34 points, including 21 in the first quarter, the most in a Finals quarter since a little someone named Michael Jordan scored 22 back in 1993. Sheesh.
Sunday's Game 2: We have to wait until Sunday at 8 p.m. ET for Game 2, taking place on the Warriors' hardwood once again. Can the Celtics go up 2-0 before the series shifts to Boston? Or will Golden State settle the score? Can't wait to find out.