Sure, it's Christmas once more
December 25, 2020
The GIST: It's beginning to look a lot like Christmas...or as we call it here in Canada, World Juniors Day.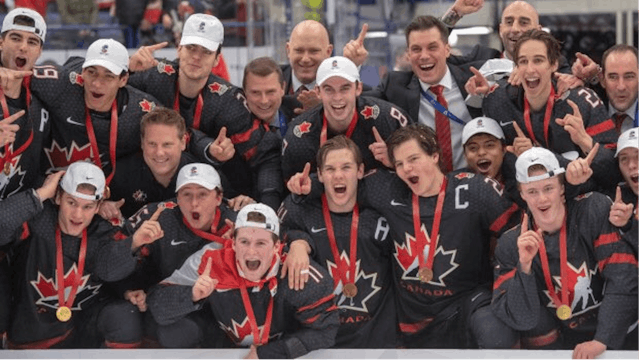 SOURCE: TSN HOCKEY/TWITTER
The setup: For the uninitiated, hi, welcome! The IIHF World Junior Championships, better known as the World Juniors, is an annual 12-day international under-20 hockey tournament, where we place the hopes and dreams of all hockey-loving Canadians on the shoulders of 25 teenagers.
The format: The field of 10 teams is split into two groups (A and B), and as the host nation and No. 1 seed, Team Canada is heading Group A. Each team will play four games in the round robin stage, and the top eight teams will move on to the sudden-death playoffs. Games start tomorrow and the champion will be crowned January 5th.
The teams: Not to brag or anything, but Team Canada is the reigning champ and the heavy favorite to win again — even with captain Kirby Dach injuring his wrist in last night's pre-tournament game. Looking to unseat us are No. 2 Russia and No. 3 Sweden over in Group B, and, of course, Team USA is always looking to spoil our fun.
Russia and the U.S. will duke it out tomorrow night at 9:30 p.m. ET, but Team Canada won't drop the puck until 6 p.m. ET on Saturday against No. 9 Germany. Check out the schedule here.

Want more World Juniors info? Listen to this week's episode of The GIST of It.
The women's tournament: Oh, there isn't one. Normally there is a severely under-recognized under-18 tournament that runs around this time, but it was cancelled this year. Don't even get us started...