Dodgers and Rays to Face Off in World Series
October 20, 2020
With wins over Atlanta and Astros, Dodgers and Rays will meet in 2020 MLB World Series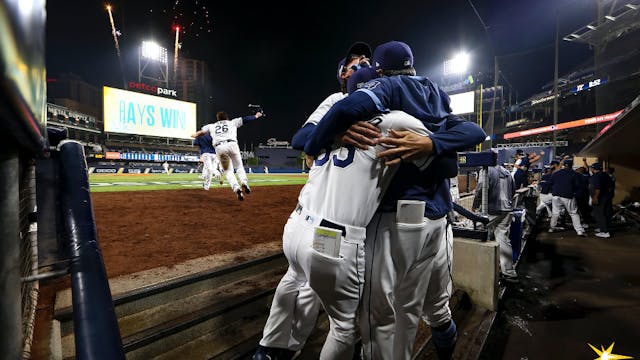 SOURCE: TAMPA BAY RAYS/TWITTER
The GIST: The World Series matchup is officially set! Both league championship series took all seven games and a whole lot of drama to be decided, building to a star-studded Fall Classic between the Tampa Bay Rays and the LA Dodgers.
Tampa Bay Rays: The Rays gave everyone something to celebrate by defeating the Houston Asterisks Astros with a nail-biting Game 7 victory on Saturday. With the win, the Rays punched their ticket to the World Series for the second time in franchise history and are now just four wins away from their first-ever title.
A key player to watch is rookie outfielder Randy Arozarena, who has seven (!!!) postseason home runs, a rookie record. On the defensive side, keep an eye on starting pitcher Charlie Morton. Morton boasts an incredible 0.57 earned run average (ERA) this postseason. Domination station.
LA Dodgers: The Dodgers defied the odds, coming back from a 3-1 series deficit to force Game 7 and win an epic 4–3 duel with the Atlanta Braves, thanks to outfielder Cody Bellinger's clutch go-ahead home run. Entering the season as the favorites to win it all, the Dodgers now look to avenge their World Series losses in 2017 and 2018 and claim their seventh franchise title.
This stacked team features a laundry list of talent, including shortstop Corey Seager, who has six home runs and a team-leading 15 RBIs this postseason. For pitching, the Dodgers will lean on starting pitcher Walker Buehler and his 29 strikeouts through four postseason starts.
Who's going to win it all?: This World Series matchup is sure to be one for the history books, with the winningest teams from each league squaring off. Riding their come-from-behind NLCS energy, we expect the star-powered Dodgers to keep that momentum rolling against the Rays and ultimately live up to their preseason favorite status.
First pitch of Game 1 is set for 8:09 p.m. ET tomorrow. Grab your favorite blanket and get cozy for the October baseball finale!