Two WNBA GOATs may have faced each other for the last time
September 27, 2021
The GIST: Yesterday may have been the last time GOATs Diana Taurasi and the aforementioned Sue Bird shared a court. Needless to say...we're not okay.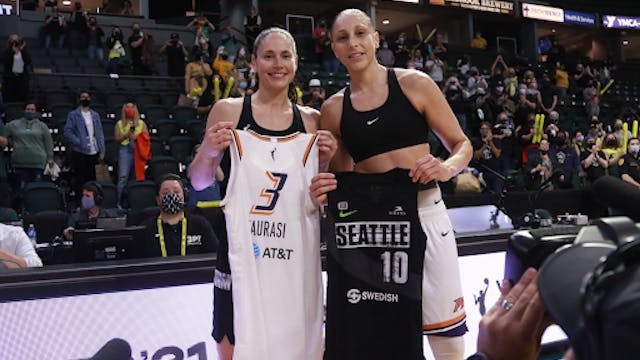 Source: WNBA/Twitter
Phoenix Mercury vs. Seattle Storm: Taurasi's Mercury and Bird's Storm — the defending WNBA champions — faced off in the first of yesterday's round two matchups. The Mercury won the , but it was longtime rivals and friends Taurasi and Bird who stole the show.
Chicago Sky vs. Minnesota Lynx: In yesterday's second game, the lower-seeded Sky cruised to an 89–76 win over the Lynx — and the newly named four-time Defensive Player of the Year — to make their first semifinal since 2016.
Tomorrow's semifinals: The Mercury and Sky have a day to recoup before tomorrow's best-of-five semis series begin. As the lower seed, the No. 6 Sky will face the No. 1 Connecticut Sun at 8 p.m. ET, while the No. 5 Mercury are set to play the No. 2 Las Vegas Aces at 10 p.m. ET. Let's dance.