NBA playoffs: No.1 Heat advance to conference final
May 13, 2022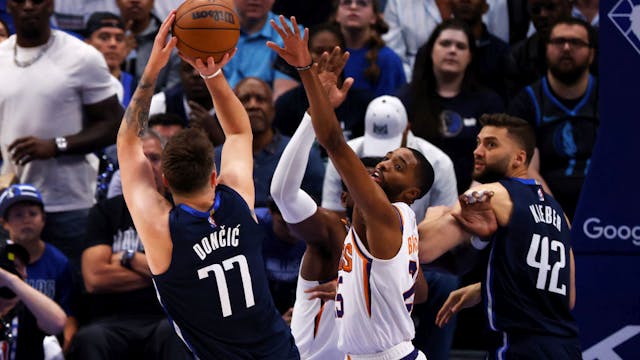 SOURCE: RON JENKINS/GETTY IMAGES
The GIST: One down, three to go. The first conference final ticket has been punched, with the remaining three on the line this weekend — buckle up.
Who's through: The Eastern Conference's No. 1 Miami Heat. They're the first squad to advance after eliminating the No. 4 Philadelphia 76ers with a 99–90 win last night. The Sixers rallied in Games 3 and 4 to make it a series, but Jimmy Butler's 32 points last night and Miami's stifling defense proved too hot to handle.
Who's going to Game 7: The Western Conference's No. 1 Phoenix Suns and No. 4 Dallas Mavericks, thanks to Dallas' clutch 113–86 victory last night. This back-and-forth series comes down to Sunday's Game 7 — the two most beautiful words in sports. See you in the desert.
Who could clinch next: After a jaw-dropping Game 5 comeback win over the East's No. 2 Boston Celtics on Wednesday, the No. 3 Milwaukee Bucks will look to advance after tonight's 7:30 p.m. ET home Game 6. Both teams have traded road victories throughout the series though, so this physical battle seems poised to go all seven games. Yes, please.
As for the West, the Ja Morant–less No. 2 Memphis Grizzlies (down 3-2) blew out the No. 3 Golden State Warriors 134–95 to stave off elimination on Wednesday. Can they pull it off again? Whoop…tune in tonight at 10 p.m. ET to find out.