Becky with the good hair
April 20, 2020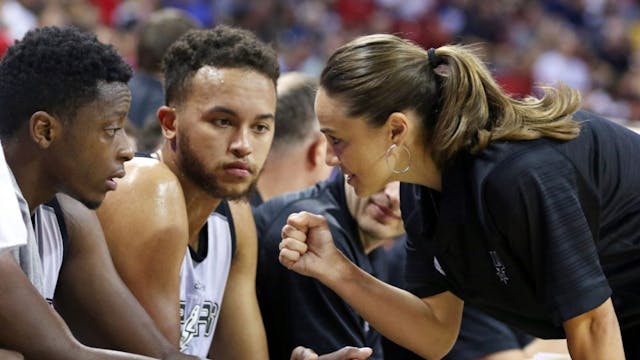 SOURCE: RONDA CHURCHILL/AP
The GIST: April was supposed to be one of the best months for sports: the MLB would have been in full swing, the MLS and NWSL would have been kicking it into high gear, the NHL would have dropped the puck on their first round of playoffs and the NBA postseason would have tipped off on Saturday. So, in honor of the NBA playoffs that would have been, we're giving #thegist on female coaches in the NBA.
The background: Without a doubt, the NBA is the most gender-inclusive pro men's sports league. Thanks to leadership that has always valued building the most diverse environments, the NBA touts: the most female majority team owners, the most women serving as team president/CEO at seven (which, BTW, is more than all other men's pro sports leagues combined) and the highest number of women serving as full-time coaches at 11.
On top of this, they promote and support the WNBA like nobody's business and Commissioner Adam Silver wants 50% of all new NBA ref and coach hires to be female. Yes, we're applauding too.
The first: Our OG ceiling smasher is the one, the only, Becky Hammon. After a 16-year WNBA career, the six-time All-Star became the first full-time assistant coach in NBA history when she was hired by the San Antonio Spurs in 2014. Over the last six years, she's climbed the coaching ladder and, on top of becoming the face of the female coaching movement, is now the lead assistant coach of the team. Heck yes, she is.
On top of that, in 2015 Hammon became the first-ever female head coach in the NBA's Summer League, and in 2016 became the first woman to be part of an All-Star coaching staff. Hey, now.
The girl gang: What might be more important is that Hammon became a role model and paved the way for several other women to become coaches in the NBA. Since Hammon began coaching with the Spurs, 10 women (!!!) have earned full-time NBA coaching jobs: